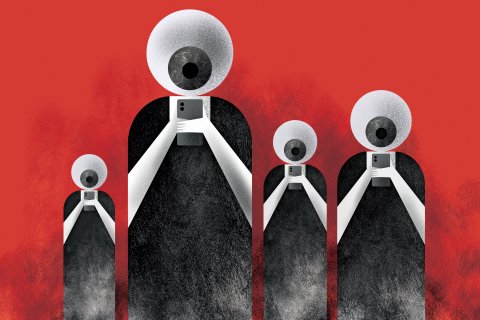 Photographs of demonic statues perched on store shelves flash through the TikTok video as eerie music plays in the background. "Apparently Hobby Lobby has a crap-ton of Baphomet [satanic] and demon-like statues just on the shelves right now, which is really confusing because Hobby Lobby is a super Christian-based company," the unnamed narrator says.
The video is the first result that appeared on a list of videos when a NewsGuard analyst searched "Hobby Lobby" on TikTok. Contrary to the narrator's claims, the arts and crafts retail company does not sell demonic statues, and the photos shown in the video were AI-generated.
Hobby Lobby is among the major brands that have fallen victim to rampant misinformation on TikTok, a NewsGuard analysis found. In a July 7-13, 2023, review, NewsGuard analyzed the TikTok video search results of nine major brands. These brands—Anheuser-Busch, Balenciaga, Barilla, Bud Light, Chick-fil-A, Heineken, Hobby Lobby, Kohl's and Target—were chosen for review because they have recently become the targets of political criticism or boycotts.
NewsGuard found that videos that shared misinformation about these brands were cumulatively viewed 57 million times. Nearly half of the views were for videos that used AI-generated or otherwise manipulated media to advance misinformation.
In total, NewsGuard analyzed 520 TikTok videos and found that 14 percent, or 73 videos, contained false, misleading or unsubstantiated claims targeting the brands themselves. These video search results were generated by analyzing the top 20 results of 26 keyword searches related to brands based in the U.S. and Europe.
NewsGuard's analysis was meant to mimic what it would be like for a typical user to search for news and information about brands on TikTok. NewsGuard found misinformation both through neutral, straightforward searches, such as "Target," and through searches suggested by TikTok related to brands, which were often provocative. For example, when a NewsGuard analyst typed "Target" in the search field, "Target boycott 2023" was suggested as a search term. When a NewsGuard analyst typed "Anheuser-Busch" in the search field, TikTok suggested the search "Anheuser-Busch ceo is a cia operative."
Research shows that young people are increasingly turning to TikTok—instead of Google—to search for information. In September 2022, a similar analysis by NewsGuard found that for a sampling of TikTok searches on prominent news topics, almost 20 percent of the video results contained misinformation.
TikTok's guidelines state that the platform prohibits misinformation "that may cause significant harm to individuals or society," but the guidelines say that the policy "does not extend to commercial and reputational harm." Asked for comment about NewsGuard's findings, a TikTok spokesperson said that the guidelines aligned with industry standards concerning misinformation. The spokesperson added that TikTok removed three of the 18 videos NewsGuard shared with TikTok. (In fact, NewsGuard found that only two of the videos were removed.) The spokesperson asked NewsGuard to not be named and to paraphrase the company's responses.
NewsGuard sent emails to the companies behind the nine brands mentioned in this report, inquiring about whether they were aware that misinformation was being spread about their brand on TikTok. None of the brands responded.
Turbocharging Animosity
NewsGuard found that public debate on TikTok surrounding the actions of major companies quickly turns toxic and propagates misinformation about the brands.
For example, the second result that appeared when searching "Target Boycott 2023"—which was suggested to NewsGuard as a keyword search when typing "Target"—featured a woman claiming that Target is offering "tuck-friendly" bathing suits for LGBTQ+ children. "They're giving it to your kids," the woman said, holding up what she said was a tuck-friendly bathing suit. "If that doesn't give you a reason to boycott Target, I don't know what does." The video, which was viewed 225,900 times as of July 19, 2023, was one of three videos advancing the same claim fed to NewsGuard in its analysis.
In May 2023, conservatives called for a boycott of Target over the company's Pride collection, which included LGBTQ+-themed clothes made for children. However, the retailer is not selling tuck-friendly swimwear for children, and it never did so, according to a company spokesperson and a NewsGuard review of the retailer's apparel on its site. Target has carried tuck-friendly swimsuits—which include extra material to hide male private parts—but they were only available in adult sizes and were not marketed to children.
In eight keyword searches related to Bud Light and U.S. brewery Anheuser-Busch, NewsGuard was served 20 videos containing false, misleading and unsubstantiated claims about the beer and the company that owns it. In March 2023, conservatives called for a boycott of Bud Light after the beer was featured in a social media promotion by transgender influencer Dylan Mulvaney.
When NewsGuard searched "Anheuser-Busch" on TikTok, the social media's algorithm suggested the phrase, "Anheuser-Busch ceo is a cia operative," among others, which yielded eight videos claiming that Brendan Whitworth, the chief executive officer of Anheuser-Busch, is a CIA operative. In fact, Whitworth did work for the CIA as an operations officer, but he left the agency in 2006, according to fact-checking site Verify This.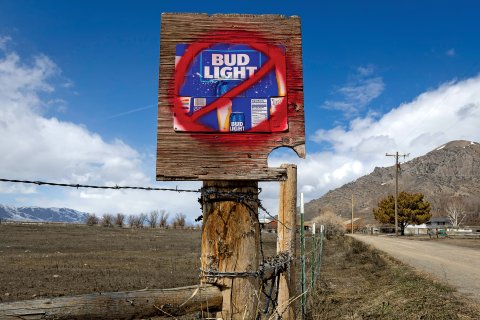 Whitworth was the subject of other conspiracy theories as well. Another TikTok video fed to NewsGuard suggested that Whitworth had made the decision to feature Mulvaney in an ad because he wanted to counter prejudice against transgender people following the March 27, 2023, shooting at a Nashville elementary school that killed six people. The suspect, whom police fatally shot, was Aiden Hale, a transgender man. "So now meet Brendan Whitworth, Anheuser Busch...12 [million] annual salary, former CIA member who puts a transgender person on America's Beer right after a Transgender killed kids at Christian school in Nashvilke [sic]...R U AWAKE YET?" the video's caption read. As of July 19, 2023, the video had garnered 61,600 views.
In fact, Bud Light made the decision to partner with Mulvaney before the Nashville tragedy. The first Bud Light sponsored post was featured on Mulvaney's Instagram in February.
'Feel Free to Fall for It'
Seven of the 73 false or misleading videos identified by NewsGuard included digitally manipulated images and clips—three of which used images seemingly generated by artificial intelligence—to cast the brands in a negative light. Cumulatively, these videos were viewed 26,010,700 times as of July 19, 2023 (one video appeared twice). In some cases, the videos inspired dozens of users to leave comments calling for boycotts of the companies mentioned.
In addition to the Hobby Lobby video mentioned above, two TikTok videos featuring AI-generated images claimed that Target is selling satanic clothing. "Check out these pictures that I'm about to show you of what Target has in store for our children and every one of you," said self-described Christian TikTok influencer "King Joshua" in a June 12, 2023, video, before he displayed a series of images depicting a store emblazoned with satanic imagery and a man wearing satanic-themed clothes.
The video, which was the ninth result for the search term "Target," attracted more than 1 million views, with many commenters stating that they will no longer shop at the retailer. "Permanent boycott this time," wrote one user. "Who's in? Don't mess with our children."
In fact, Target is not selling the satanic clothes that "King Joshua" showed. The AI-generated photos appear to have originated from a Facebook user named "The Pumpkin Empress," who posted the videos on her page in May 2023 under the caption "AI pics: by yours truly, feel free to fall for it."
Another digitally manipulated video served to NewsGuard claimed that Bud Light was "firing back" at the criticism it received over the Mulvaney partnership by purchasing an ad on a billboard that said "lol CRYBABIES." The user who posted the video—who goes by "Jess in Miami" on TikTok—suggested that the billboard proved that Bud Light orchestrated the controversy for publicity. As of July 19, 2023, the clip had attracted 1.4 million views. (After NewsGuard reached out to TikTok for comment, the video was removed.)
In fact, Bud Light did not call its critics "crybabies" and the billboard, which is located in Toronto, actually displays an ad for a different company—streaming service Disney+. "Our billboard was altered in the images that have been circulating on social media," Toby Sturek, an executive at Branded Cities, the advertising company that owns the billboard, told The Associated Press in April 2023.
TikTok's policy states that "Synthetic or manipulated media that shows realistic scenes must be clearly disclosed. This can be done through the use of a sticker or caption, such as 'synthetic', 'fake', 'not real' or 'altered.'" However, none of the manipulated videos NewsGuard identified on TikTok contained captions or stickers clearly indicating that they were edited. One video, the Hobby Lobby clip mentioned at the beginning of this report, included a watermark of a Reddit group that shared AI-generated images called "Midjourney." (Midjourney is also the name of an AI image-generating program.) The TikTok spokesperson told NewsGuard that the watermark meets the platform's standard for disclosing that a video is AI generated.
'Balenciaga Satanism'
As mentioned above, NewsGuard found that TikTok's search engine, which suggests keywords to users as they type, nudges them toward brand-related conspiracy theories and misinformation.
For example, when a NewsGuard analyst typed "Heineken" into the TikTok search field on July 13, 2023, the phrases "Heineken conspiracy," "Heineken androchrome," [sic] and "Heineken bill gates" showed up as suggested searches.
These keywords returned 10 videos advancing baseless conspiracy theories about Bill Gates and the Dutch beer maker that he purchased a $902 million stake in, including one claiming that the tech billionaire is using Heineken to "inject stuff" into food, water and animals, and another suggesting that Gates' financial stake in Heineken is part of a plan to decrease the world's population. The suggested search phrase "Heineken androchrome" [sic] returned two videos promoting a QAnon conspiracy theory claiming that Gates is transporting adrenochrome, a compound made naturally in humans' adrenal glands, in Heineken barrels. After NewsGuard reached out for comment, TikTok removed one of the two videos promoting the adrenochrome conspiracy theory.
QAnon supporters claim that elites harvest adrenochrome from abused children and use it to stay healthy and young. There is no evidence that the compound has any rejuvenating effects or psychedelic properties, according to a report from the McGill Office for Science & Society, or that Heineken is transporting it.
Similarly, when a NewsGuard analyst based in Italy typed "Barilla" into TikTok on July 11, 2023, the first suggested search phrase was "barilla insetti," Italian for "Barilla insects." Clicking on the phrase yielded four videos advancing the baseless claim that Barilla pasta is made with insects. " Now it is official that Barilla pasta is made with insect flour" stated one video in Italian ("Però adesso è ufficiale che la pasta Barilla viene fatta anche inserendo farina di insetti") that garnered 353,000 views.
This narrative apparently first began circulating in October 2022, after the company-affiliated Barilla Foundation, which promotes research on sustainability, tweeted a video in which an Italian comedian talked about the nutritional value of insect-based food. Following the social media backlash, on November 2, the foundation stated in a press release, "The Barilla Group has never announced the launch of products made with insect flour and has no interest in expanding its business in this direction." NewsGuard reviewed the list of ingredients of Barilla products and confirmed that the company does not use insect flour in its pasta.
Jack Brewster is enterprise editor and Macrina Wang is a senior analyst at NewsGuard. Additional reporting by contributing analyst Natalie Adams, analyst Sara Badilini, senior analysts Natalie Huet and Giulia Pozzi, contributing analyst Marie Richter, intern Sofia Rubinson and managing editor and vice president of partnerships, Germany & Austria Roberta Schmid.