Alabama's lackluster 17-3 win on Saturday against a South Florida team that went 1-11 last season didn't inspire confidence from voters.
The Bulls haven't won a game against Football Bowl Subdivision program since the 2021 season yet went to halftime tied with Alabama and trailed by just one score in the fourth quarter.
After being a 32-point favorite going into the game, Nick Saban's squad dropped three spots to 13 in the latest Associated Press Top 25 poll. The loss also ended several streaks for the Crimson Tide.
This week's poll marks the first time since September 27, 2015, that Bama has been outside of the top 10, following an upset loss against Ole Miss at Bryant-Denny Stadium. Bama's now-concluded streak of 128 weeks is the second longest in the poll's history after the University of Miami's run of 137 weeks from 1985 to 1993.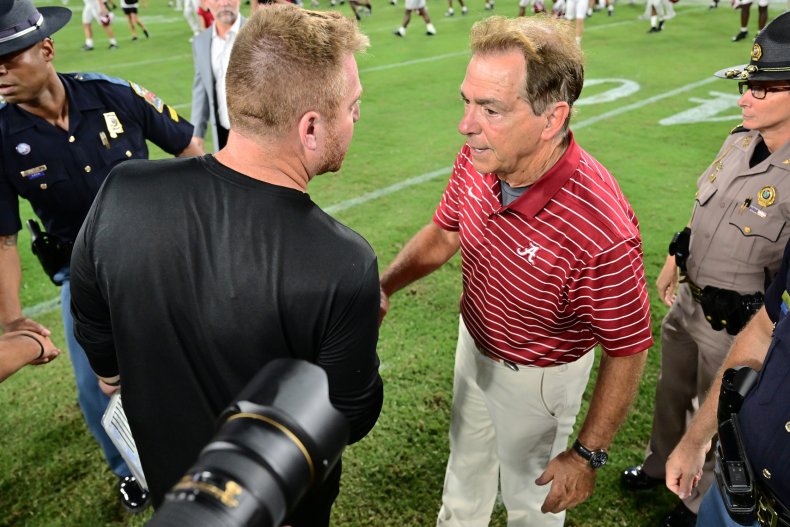 No. 1 Georgia now holds the longest current streak at 37 weeks. The Bulldogs saw a threat of their own this week, trailing by double digits at home for the first since the 2015 season. They rallied in the second half to down South Carolina, 24-14.
Another streak Alabama lost this week was the school's 42-game run since 2007 of scoring at least 20 points against non-Power-5 opposition. Alabama won those previous games by an average of 40 points.
Alabama's hopes of making the College Football Playoff are still alive, but a loss against No. 15 Ole Miss this week would put their chances on life support. Of the 36 teams to compete in the playoff, 22 have entered with one loss. No team with two or more losses has been selected for the playoff.
Alabama's chances beating Ole Miss will hinge on getting improved play at quarterback and on the offensive line.
Saban benched QB Jalen Milroe after he threw two interceptions in the loss against Texas in week 2. Milroe didn't play against the Bulls, while Notre Dame transfer Tyler Buchner went 5-of-14 passing for 34 yards before giving way to Ty Simpson, who threw for 79 yards with five completions in nine pass attempts.
It's not all on the quarterbacks. The offensive line allowed five sacks against the Bulls and 12 through three games. Milroe was sacked five times against Texas, which could've been worse if not for him using his legs to extend plays.
Monday, Milroe was named the starter for the game against Ole Miss.
"Jalen showed the leadership that I was looking for during the game in terms of supporting his teammates and doing the things he needed to do," Saban told reporters during his Monday press conference. "He's had the opportunity to play. So have the other guys. Jalen played the best of all those guys, so I think he's earned the opportunity to be the quarterback."
Who rose and fell in the Top 25
Florida is back in the top 25 after beating Tennessee at home. The Gators made the top 25 for the first time in a year while the Vols dropped 2 spots to No. 23. This week's poll also marks the first time since September 17, 2017, that Florida, No. 4 Florida State and No. 20 Miami are all ranked.
Kansas State tumbled from No. 15 to unranked after losing to Missouri on a game-winning 61-yard field goal.
Florida State narrowly escaped with a win against Boston College and dropped one spot, while Texas moved up after a win against Wyoming. The Seminoles will get another tough test when they travel to play the Clemson Tigers. Clemson is unranked, but don't sleep on the possibility of the Tigers pulling an upset.
Colorado won a thrilling game against Colorado State in comeback fashion in overtime. The win didn't inspire voters, as they dropped the Buffs one spot to No. 19 with Duke moving up to 18th.
We'll learn more about Colorado under first-year coach Deion Sanders when the team plays a road game against No. 10 Oregon. The game presents one of the more exciting quarterback matchups of the week, with Sheduer Sanders of Colorado taking on the Ducks' Bo Nix. Colorado will be without two-way star Travis Hunter, who left the Colorado State game with an injury.
What's next?
The game of the week will be the No. 6 Ohio State Buckeyes road game against No. 9 Notre Dame. Marvin Harrison Jr. had five catches for 126 yards for the Buckeyes during Saturday's 63-10 win against Western Kentucky.
The Irish, led by quarterback Sam Hartman, have scored 40 or more points in each of their four wins, including Saturday's 41-17 victory against Central Michigan. Hartman has thrown 13 touchdowns without an interception with 1,061 yards this season.
Oddsmakers at BetMGM expect a high-scoring affair with the over/under set at 54.5 points, as of Monday afternoon. Ohio State is a 3.5-point favorite.
Of the six games featuring two top 25 teams in Week 4, three of them are Pac-12 matchups. In addition to Oregon and Colorado, No. 14 Oregon State goes on the road against No. 21 Washington State, and No. 22 UCLA visits No. 11 Utah.
In a classic Big Ten matchup, No. 7 Penn State led by quarterback Drew Allar will host No. 24 Iowa.
Top 25 Poll
1. Georgia 3-0
2. Michigan 3-0
3. Texas 3-0
4. Florida State 3-0
5. USC 3-0
6. Ohio State 3-0
7. Penn State 3-0
8. Washington 3-0
9. Notre Dame 4-0
10. Oregon 3-0
11. Utah 3-0
12. LSU 2-1
13. Alabama 2-1
14. Oregon State 3-0
15. Ole Miss 3-0
16. Oklahoma 3-0
17. North Carolina 3-0
18. Duke 3-0
19. Colorado 3-0
20. Miami 3-0
21. Washington State 3-0
22. UCLA 3-0
23. Tennessee 2-1
24. Iowa 3-0
25. Florida 2-1
Others receiving votes: Clemson, Missouri, Kansas State, TCU , Fresno State, Kansas, Tulane, Kentucky, Maryland, BYU, Wisconsin, Syracuse, Louisville, Auburn.
Uncommon Knowledge
Newsweek is committed to challenging conventional wisdom and finding connections in the search for common ground.
Newsweek is committed to challenging conventional wisdom and finding connections in the search for common ground.
About the writer
Nubyjas Wilborn is Newsweek reporter based in Auburn, Alabama. Wilborn joined Newsweek in 2023 after winning the 2022 National Sports Media Association Award in Alabama for his coverage of the Auburn athletic department. He is a graduate of Clark Atlanta University. You can get in touch with Nubyjas Wilborn by emailing at [email protected].
Languages: English