Clashes were reported in the contested Nagorno-Karabakh region on Tuesday as Azerbaijan declared a new offensive in the the ethnic-Armenian controlled territory, escalating a decades-long dispute.
Ruben Vardanyan, the former head of Nagorno-Karabakh's separatist government, reported "artillery shelling" in a post on his Telegram channel.
The Nagorno-Karabakh region is internationally recognized as part of Azerbaijan, but it is predominantly inhabited by ethnic Armenians and governed by the unrecognized Nagorno-Karabakh Republic, also known as the Republic of Artsakh by Armenians.
Russia shares a border with Azerbaijan, and both Armenia and Azerbaijan were part of the Soviet Union.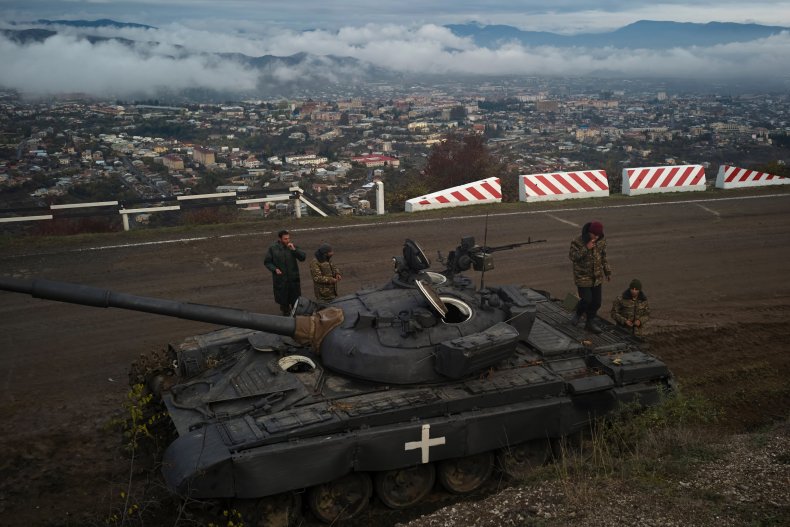 Large-scale conflicts broke out between the two countries in the 1990s after the fall of the Soviet Union and tensions have remained high despite a Russian-brokered truce in 2020. Nagorno-Karabakh has been cut off from vital supplies since December, when Azerbaijan blocked the Lachin corridor, its only remaining road link to Armenia.
Azerbaijan on Tuesday blamed "illegal Armenian armed groups" for land mines that killed six of its citizens.
The Azerbaijani defense ministry issued a statement saying "local anti-terrorist activities" had been launched to "suppress large-scale provocations" in Nagorno-Karabakh.
It added that Armenian positions, combat assets and military facilities had been incapacitated using high-precision weapons.
Armenia's defense ministry said in a statement that as of 2 p.m. local time, the situation on its border with Azerbaijan was stable.
Sergey Ghazaryan, the unrecognized foreign minister of Nagorno-Karabakh, was quoted by Armenian state news agency Armenpress as saying that Azerbaijan had launched its operation "in order to implement its policy of genocide."
It added that it was also "moving towards the physical destruction of the civilian population and the destruction of civilian objects."
Geopolitical and security analyst Michael Horowitz shared a video on X, formerly Twitter, that was reportedly filmed by local freelance journalist Marut Vanyan in Nagorno-Karabakh.
"Video purportedly from Stepanakert in Karabakh - sounds of fighting and loitering munitions above #Azerbaijan, #Armenia," he wrote.
Newsweek has been unable to independently verify the authenticity of the footage.
Vanyan posted on X that he was "hearing all types of weapon sounds" in Stepanakert, the de facto capital of the the landlocked mountainous region, and that some sounded like "grad artillery systems." The journalist also said he had heard sirens and explosions, and that "children are running to basements crying."
Local media also reported that air raid sirens were sounding in Stepanakert.
Azerbaijan's defense ministry also accused "illegal Armenian armed groups" of jamming the GPS navigation of a passenger aircraft flying from Tbilisi in Georgia to Baku, the capital of Azerbaijan.
Ethnic Armenians in Nagorno-Karabakh said this was "an absolute lie" intended to divert attention from "the humanitarian catastrophe caused by the illegal blockade" of the Lachin corridor.
Ghazaryan's statement said that over the past 24 hours, "the Azerbaijani side has spread misinformation that the Artsakh side allegedly carried out sabotage operations and fired at Azerbaijani positions."
"And later they spread information that they had launched a so-called 'anti-terrorist operation,' which proves that all these steps were planned in advance," he said.
"We demand from the international community to take effective steps very quickly to stop Azerbaijan's aggression," Ghazaryan added.