Adopting a dog can be tough but one owner has shared why it is worth it in a heartwarming video that has 1.8 million views.
In a viral TikTok clip, user @whorablereligion can be seen lounging on her sofa with a pug lying on her stomach and Tundra, a rescue dog, near her feet.
The woman pets Tundra and then something beautiful happens. The pug jumps off the sofa and gives the newest member of their family enough space to cuddle her new owner.
Text layered over the video reads: "The moment you realize your new rescue feels safe [and] loves you."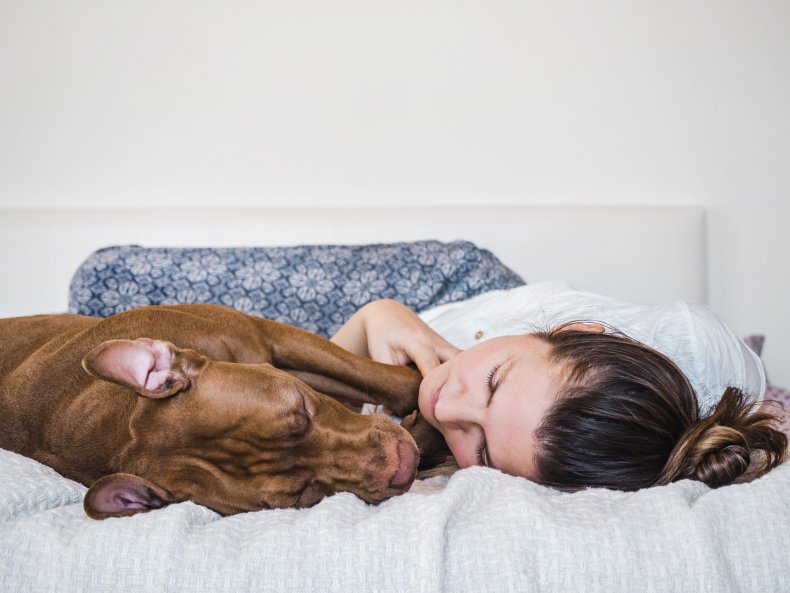 The video, captioned "I hope we can make you thrive for the rest of your life my sweet girl," boasts 342,000 likes.
Newsweek reached out to canine behaviorist Joe Nutkins to find out what owners can do to help their furry friend settle into their new home.
The United-Kingdom-based dog trainer has shared five top tips to make the rescue or rehoming process easier for the pet and owner.
5 Tips To Help Settle a Rescue Dog Into Your Home
Give your new dog time to investigate its surroundings. The pooch may have recently had changes in homes or been in rescue for a while so it will need to take in everything. Consider all of the new smells taking over their olfactory system for a start! Let it explore the home and garden at its pace.
Try to not overload your new family member with human interactions. We want to let our new dogs know we love them, but they may not be used to lots of contact or may be weary. Instead, give them space and don't pick them up to cuddle them lots but try sitting low down and let them come to you. They may need some time to just decompress and that may include sitting quietly in a small space or standing quietly with you in the garden to just 'be'. When they are ready for contact and interaction they will let you know.
Provide an area for your dog that will be quiet, secure, and away from busy areas of the home such as the hallway, so that your new rescue dog will be able to have a chance to rest. Consider that, while in rescue, the canine would have had its own kennel area, bed, bowl, and exercise time, so providing these will help with the transition. If you have other pets including dogs, you can also bring them away at first to give your new dog some 'me time'.
While looking at giving your new dog its own space, it's worth noting that sometimes having too much space can put pressure on a dog to be aware of what is happening in all areas. Try closing doors or baby gates to extra rooms not being used and giving your new dog just a couple of rooms at first or closing off the stairs. Now it can focus on the smaller environment better, and this can lower their stress.
Be patient. Remember that many rescue dogs have gone through more in potentially a short time than many other dogs experience in their lives, and some of those experiences will stay with them, even if they don't appear traumatic to us. This can cause rescue dogs to be more shy, hesitant, and nervous at first or even after a few weeks and months but with new situations. Adjusting to the new family is likely to take time, and therefore you shouldn't expect immediate results, although sometimes a rescue dog will be comfortable straight away, which is great! Try to not speed up the process by crowding the pooch, or bringing lots of people around to meet it in their first few days. Walks may be stressful with so many new stimuli at first and meeting children or other dogs in the home may need to be in very short sessions, once the dogs are ready. Time helps so much and your new rescue dog will appreciate you for it.
So far, the clip shared on September 15 has received over 1,300 comments. The owner states she rescued Tundra two months ago.
One comment, with 13,300 likes, said: "Your pug furbaby just knew too."
"Rescue dogs are the best dogs. It's a whole other type of bond you get that no one will understand until you experience it yourself," said another user.
A third wrote: "That must be the best feeling in every way, good job making baby feel safe!!"
Newsweek reached out to @whorablereligion for comment. We could not verify the details of the case.
Do you have funny and adorable videos or pictures of your pet you want to share? Send them to [email protected] with some details about your best friend and they could appear in our Pet of the Week lineup.