ESPN has dropped a new Monday Night Football song, and fans—albeit some a bit baffled—are here for it.
The cable sports channel released the new rock-infused version of Phil Collins' seminal "In the Air Tonight" ahead of last night's doubleheader.
Singer-songwriter Chris Stapleton and rapper Snoop Dogg paired up for the new anthem, set to a powerful drumbeat by Cindy Blackman Santana.
The cinematic trailer was released before a night of football featuring the New Orleans Saints versus the Carolina Panthers and the Cleveland Browns versus Pittsburgh Steelers began.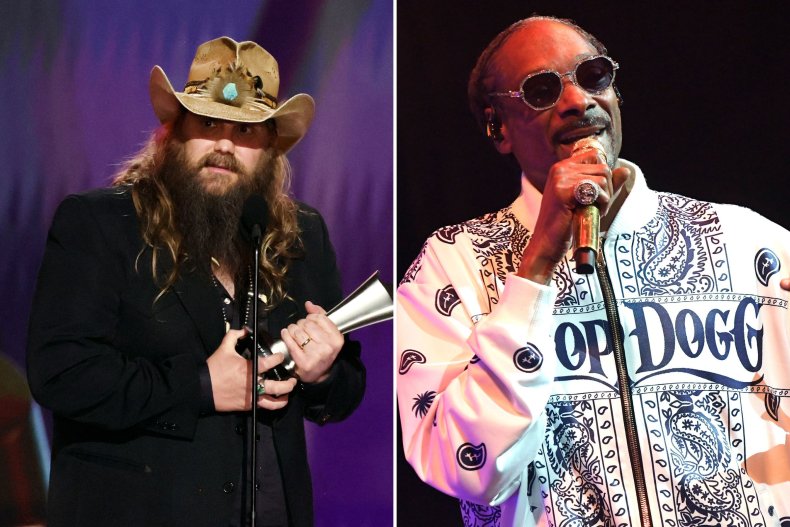 The video, which is one minute and 40 seconds long, has already been viewed one million times by social media users on X, formerly known as Twitter.
Football fans quickly commented on the high-end trailer, with a clear divide created by the song.
One fan posted: "Chris Stapleton and Snoop Dogg covering 'In the Air Tonight' wasn't on my 2023 bingo card. But I'm glad it exists."
Another joked: "Me an hour ago: No one should ever cover Phil Collins "In the Air" Me, now: WOW Chris Stapleton is [fire emoji]."
"Chris Stapleton's cover of 'In The Air Tonight' for Monday Night Football will give us goosebumps all year," a third commented.
One fan preferred the song to the games and said: "Both games tonight were BAD football. The best part was the Chris Stapleton intro in the first game."
The anthem converted one viewer. Reposting the video they shared: "Thoughts? The world IS coming to an end, I luved some country dude named Chris Stapleton's rendition of the song."
Although it was a hit with some spectators, others were less than impressed.
An onlooker jabbed: "The new MNF song... is Chris Stapleton... covering a song that isn't his, by someone who's still active??"
The insults kept coming. A fan said: "[Putting trash in the bin emoji] - that's where this song belongs. Snoop Dogg and some goofy ass dancers? Chris Stapleton would have been fine but then they couldn't even write an original song. Nah bring back Hank Williams and his rowdy friends."
"Lastly, who told Snoop and Chris Stapleton that we need that dumbass remix. Wtf was that?!" another stated.
Accompanying the powerful vocals, rapping, and drums, the trailer spliced together game clips, audience reaction, and the three artists.
The double-header was to "create a simultaneous national and regional appeal," according to ESPN President of Content Burke Magnus.
This isn't the first time Stapleton has lent his vocals to the NFL. Earlier this year, he performed "The Star-Spangled Banner" ahead of the Philadelphia Eagles and Kansas City Chiefs face-off at Super Bowl LVII in Glendale, Arizona.
Uncommon Knowledge
Newsweek is committed to challenging conventional wisdom and finding connections in the search for common ground.
Newsweek is committed to challenging conventional wisdom and finding connections in the search for common ground.