Dove is facing boycott calls over its partnership with an activist who accused a white University of Virginia (UVA) student of making "threatening" comments about a group of Black Lives Matter (BLM) protestors back in 2020.
Community organizer Zyahna Bryant announced on her Instagram account at the end of August that she was a "Dove ambassador" and hoped to push the idea of "fat liberation." Personal care brand Dove, which is owned by Unilever, has been known for its various body positive and inclusive campaigns over the years.
Making the announcement, Bryant wrote: "Fat liberation is something we should all be talking about! That's why I am partnering with Dove, to support the work of [the National Association to Advance Fat Acceptance], @flareforjustice in the Campaign for Size Freedom."
She said in an accompanying video clip: "My belief is that we should be centering the voices and experiences of the most marginalized people and communities at all times. So when I think about what fat liberation looks like to me, I think about centering the voices of those who live in and who maneuver through spaces and institutions in a fat body."
While the post has received supportive comments, Dove's move to partner with Bryant has sparked condemnation and boycott calls over her role in seeking the expulsion of former UVA student Morgan Bettinger.
In the summer of 2020, Bryant claimed that she heard Bettinger refer to BLM protesters as "good speed bumps." According to the New York Post, Bryant later admitted that she may have "misheard" Bettinger. Nevertheless, a school committee ruled that Bettinger was guilty of having made a legitimate threat against the protestors.
On X, formerly Twitter, "#BoycottDove" has become a trending topic, with one of the platform's users writing directly to Dove: "Got it, you're on my boycott list now! I'll have to toss my Dove products and never buy them again!"
After the X account @EndWokeness accused Bryant of having "ruined a white girl's life over a non-existent remark," one commenter responded: "BOYCOTT DOVE … NOW!"
"It's time for us to give Dove the Bud Light treatment," said another, in reference to the boycott the beer brand faced over its small brand partnership with transgender influencer Dylan Mulvaney. "#LiberateDove from our lives. Our $, our choice."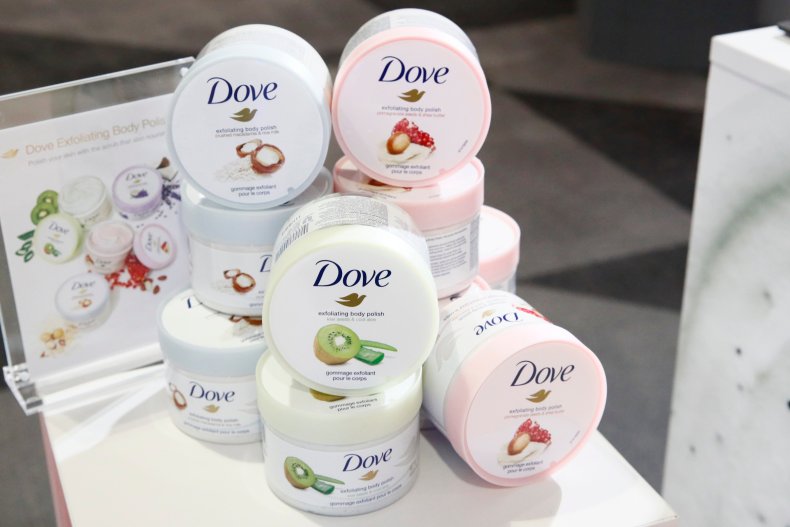 However, one X user expressed doubts that a boycott would gain any traction.
"Bud [Light] was really something that hit the heartland whereas soap… does anyone really care about soap?" they wrote. "I don't see it as having the same emotional impact."
The drama between Bryant and Bettinger started after the latter mistakenly drove down a street where there was a gathering of BLM protestors. In an interview with Reason magazine earlier this year, Bettinger said that on realizing traffic had been blocked, she parked her car to have a look at what was going on.
Bettinger said that she struck up a brief conversation with the driver of a dump truck that was partially blocking the road. She recounted telling the driver: "It's a good thing that you are here because otherwise these people would have been speed bumps."
She said that she was praising the driver for blocking the road. The driver later corroborated Bettinger's remark to local police.
Bryant, who heard part of the conversation, later wrote on X that Bettinger said the protestors "would make 'good speedbumps.'" Bryant also shared video footage of Bettinger backing down the street as a group of protestors followed.
"[Bettinger] then called the police and started crying, saying we were attacking her," Bryant claimed on the platform, where other users soon identified the woman in the video clip to be Bettinger.
After Bettinger was identified, Bryant, who herself was a student at UVA at the time, demanded that school administrators expel her.
Alleging that Bettinger had threatened the health and safety of others, Bryant also filed a written complaint to the University Judiciary Committee.
The student-run committee found Bettinger guilty of making a legitimate threat against the protestors, per documents obtained by Reason magazine. In its ruling, jurors on the committee said that even if there was harmless intention behind Bettinger's "speed bumps" remark during a protest, it still qualified for punishment.
Per Reason, Bryant also filed a complaint with UVA's Office for Equal Opportunity and Civil Rights, accusing Bettinger of making the "speed bumps" statement five times. Bryant also accused Bettinger of racially harassing her.
The office found that three of the five allegations Bryant leveled against Bettinger could not be corroborated by witnesses. It was also reportedly deemed unlikely that Bryant heard Bettinger's comments firsthand.
Despite the controversy, Bettinger—who was majoring in political philosophy, policy, and law—graduated from UVA, but with a permanent mark on her record, which she told Reason would likely impact her chances of getting in law school.
UVA newspaper The Cavalier Daily reported in May that Bettinger is considering filing a lawsuit against school officials to have the mark expunged from her record.
Newsweek has been unable to reach Bryant but has contacted representatives of Dove, Unilever and UVA via email for comment.