Eight years ago, I struggled with anxiety; I was down and depressed. I thought: Why? At the time, I took a step back and it struck me there were three things that I wanted to change.
I felt like I couldn't start the day without caffeine. I drank so much coffee to crank myself up, roughly around 6 cups a day, and by the time evening came, I felt I needed a stiff drink to calm myself down again.
In the middle of the day, I'd sometimes eat a lot of food with refined sugar to help with my energy dip.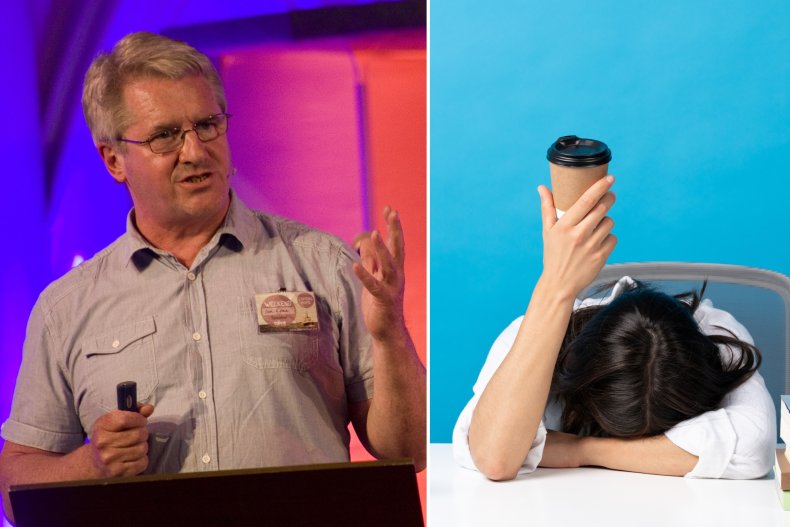 It struck me that maybe my anxiety and feelings of depression were linked to what I was eating and drinking. Initially, I had the idea of giving up caffeine, alcohol, and refined sugar all in one go.
If you're a regular caffeine drinker, you're going to get a blinding headache when you're trying to give up, which is what happened to me after the first 24 hours of quitting coffee.
But within 48 hours, I suddenly felt calmer as the caffeine left my system. My anxiety began to fade away, which was a big improvement.
I believe that caffeine is the most psychoactive drug on earth, and it's universal. One of the problems with caffeine is it triggers a fight or flight response that we get when we're in danger by releasing adrenaline and cortisol into our system.
I don't think it's healthy for us to keep our bodies on high alert all through the day. That's why I experienced anxiety for many years.
Most days, I don't get stressed. The last six months have been stressful for me in general, but I haven't remotely felt the stress I used to feel when I was drinking caffeine.
I also found that caffeine enabled me to drink more alcohol. When I was drinking coffee, it hyped up my anxiety so much that by the time the evening came, I needed to drink alcohol to calm me down.
So, for me, quitting caffeine was a great step toward quitting alcohol too.
I currently drink decaf coffee. I know a lot of people who give up caffeine don't do that, but decaf has roughly 2 percent of the caffeine in it; it's such a small amount that it doesn't remotely have the effect that fully caffeinated coffee has.
I live a calmer, stress-free life. I also don't go to the restroom as much because coffee dehydrates you.
I believe that many of us who are living in the modern world have information overload. For me, the last thing I need is to drink a drug that stresses me even more and puts more strain on my body, mind, and spirit.
A lot of people like espresso, which is really strong, but for me, it wasn't espresso, it was depresso.
Don Egan is a freelance spiritual coach and author of several books. He's lived without caffeine and alcohol since 2017.
All views expressed in this article are the author's own.
Do you have a unique experience or personal story to share? Email the My Turn team at [email protected]