Donald Trump said Ron DeSantis bombed, hit out at claims he had asked his vice president to put him "above the Constitution" and called Chris Christie's performance "horrible" after the first debate of the 2024 campaign.
The former president followed through with his threat to skip the Republican primary debate hosted by Fox News in Milwaukee, citing his commanding lead.
Instead, an interview he pre-recorded with former Fox host Tucker Carlson was posted on X, formerly known as Twitter, just before the debate began.
Trump stayed quiet on his Truth Social platform while the GOP contenders were on stage, but fired off a number of posts after the event.
In his first post after the debate, he wrote: "I never asked Mike Pence to put me above the Constitution. Who would say such a thing? A FAKE STORY!"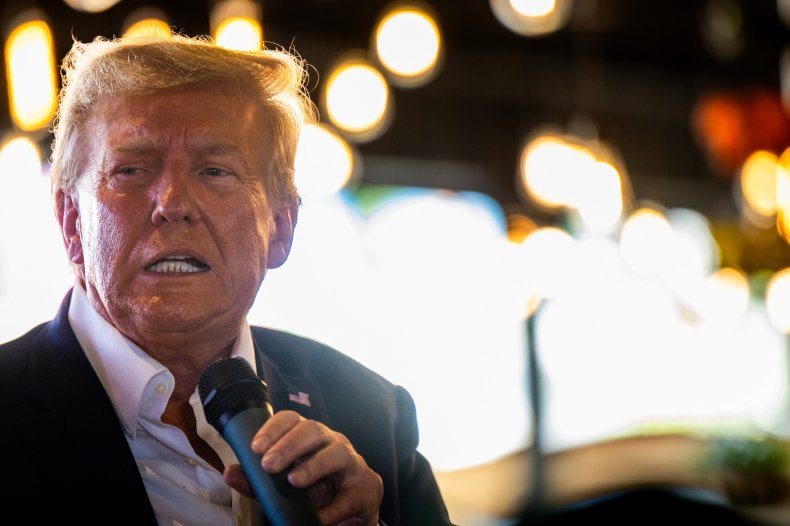 Christie, the former New Jersey governor, was among the GOP contenders who praised Pence for refusing to go along with Trump's requests to block the certification of Joe Biden's election victory in 2020.
Pence "deserves our thanks as Americans for putting his oath of office and the Constitution of the United States before personal, political and unfair pressure," Christie said.
Trump slammed the former governor, writing on Truth Social: "Chris Christie was horrible tonight. He was booed at a level never seen before at such a debate. He should have walked off the stage—Nobody wanted to hear from him!"
Christie was booed by the audience after describing Trump's conduct as "beneath" the office. "Whether or not you believe that the criminal charges are right or wrong, the conduct is beneath the office of president of the United States," he said.
Christie and former Arkansas governor Asa Hutchinson were the only two of the eight GOP candidates who did not raise their hand when asked if they would support Trump as their party's nominee if he is convicted in a criminal case.
The former president is facing 91 charges across four federal and state felony indictments, in cases connected to attempts to overturn the 2020 election, his handling of classified documents and his role in hush money payments.
Trump is set to surrender in Georgia on Thursday on one of the indictments. He has denied all the charges against him.
Hutchinson doubled down on comments he made earlier this year, saying Trump was "morally disqualified" to be president.
In response, Trump wrote on Truth Social: "'Aida' was a joke tonight. He's over!"
The former president also criticized DeSantis, the governor of Florida, who remains in a distant second place behind Trump in polls for the Republican nomination.
"DeSanctimonious was a 'BOMB' tonight, especially with his softball interview with Sean Hannity. This guy has totally forgotten his past. Who cares!?!?" Trump wrote in one post.
He added in another: "Ron DeSanctimonious is always talking about the number of votes he got in Florida. He doesn't say that I got a record 1.1 Million more votes than him. He forgot!!!"
Trump had praise only for tech entrepreneur Vivek Ramaswamy, who described him as the best president of the 21st century.
"This answer gave Vivek Ramaswamy a big WIN in the debate because of a thing called TRUTH. Thank you Vivek!" Trump wrote.
Newsweek has contacted the campaigns of Trump, Christie, DeSantis and Hutchinson for further comment via email.