One of the key demands by the United Auto Workers (UAW) union, which is in the fourth day of its historic strike against the so-called "big three" car manufacturers in the U.S., is a reduced workweek to achieve what its leader described as better work-life balance.
About 13,000 workers for Ford, General Motors and Stellantis walked out of their jobs, the first time in history that they are striking against all three companies simultaneously. Their demands include wage increases, cost-of-living adjustments for salaries to match with inflation and profit-sharing plans. They are also asking for "increased work, life, and family balance through increased paid time off and additional holidays."
As part of the work-life balance request, the union is trying to negotiate a 32-workweek for 40 hours of pay that union President Shawn Fain said goes back to the 1940s.
"Our leaders back then were talking about a 35-, a 32-hour workweek," he said.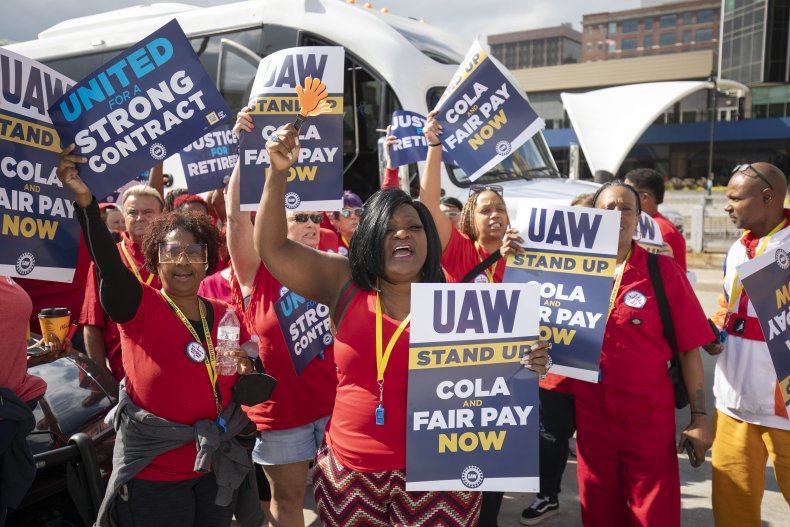 The debate over four-day workweeks has gained significant traction over the last few years around the world as workers push for more flexibility in their jobs.
In the U.S., about 20 percent of companies surveyed by the International Foundation of Employee Benefit Plans are either considering, piloted, have formally implemented or have instituted four-day workweeks.
The foundation found in results published this month that part of the push for more flexible work arrangements and demand for better work-life balance came with the shift of the nature of work during the COVID-19 pandemic.
"As the traditional workweek saw a major upheaval with the pandemic, a few employers are implementing a four-day workweek for recruiting and retention reasons," said Julie Stich, vice president of content at the foundation. "However, most employers, even if interested, are struggling to figure out how to make that a reality while trying to meet business operation goals."
While there is some evidence that shorter workweeks may reduce stress without affecting productivity, companies struggle to implement them.
A study in New Zealand showed that employees appreciated having the extra day and some said it helped with their well-being. But the extra day off was viewed by management as a gift and added more pressure during the four days people were at work.
"There was a feeling of 'a bit more urgency' and 'speeding up your processes,'" the study found. "Some liked what they felt was a quieter and more relaxed climate, whereas others enjoyed the 'exhilarating' and 'full-on' pace. One senior leader perceived that the 'quality of some of the work deteriorated' as a result of staff 'trying to jam 100 percent into 80 percent' of time."
Fain wants to see a more balanced approach to how employees experience their work and home lives.
"We are one of the most overworked populations in the world," he said. "We need to get back to fighting for a vision of society in which everyone earns family-sustaining wages and everyone has enough free time to enjoy their lives and see their kids grow up and their parents grow old."
Researchers say it's difficult to create that balance.
"But we must start with an honest appraisal of how productivity and time trade-offs impact the well-being of workers," occupational psychologist Emma Russell wrote for Harvard Business Review.