Footage of Jimmy Fallon failing to stop Russell Brand from harassing Katharine McPhee on his show has resurfaced in the wake of the allegations against the British comedian.
In a joint investigation conducted by Channel 4's Dispatches, and U.K. sister newspapers The Sunday Times and The Times, the 48-year-old was accused of rape, sexual assault and emotional abuse by four women between 2006 and 2013.
Brand has denied the claims. In a YouTube video posted on September 15, he said his relationships "were absolutely always consensual," and described the accusations as "a litany of astonishing, rather baroque attacks" by the mainstream media.
"These allegations pertain to the time when I was working in the mainstream, when I was in the newspapers all the time, when I was in the movies, and as I've written about extensively in my books, I was very, very promiscuous," Brand added.
Since news of the investigation broke, stories of the star's alleged past behavior have reemerged—including Brand's Late Night With Jimmy Fallon appearance with McPhee.
In the video, which is available on YouTube and has been viewed more than 8 million times, Brand reaches out for McPhee as she walks across the stage to take her seat. The comedian refuses to move out of his chair next to Fallon so the then-29-year-old can be interviewed, and McPhee jokingly sits on his lap instead.
Brand appears thrilled by the move, but Fallon tells McPhee: "Don't do that." The comedian then stands up and gives McPhee the chair, telling her: "I'll just be here with my sexual charisma."
Fallon then begins the interview with McPhee, asking her about the Super Bowl the day before, where her team, the San Francisco 49ers, lost. The singer-songwriter said that she had been invited to a recent game by the New York Jets but used it an opportunity to go to the 49ers' side of the stadium.
McPhee then bonded with former coach Jim Harbaugh and his family, with the pair exchanging numbers.
However, Fallon interrupts her and turns to Brand, asking "Russell, are you thinking about something?"
"Yes, as a matter of a fact I was thinking about something," Brand replies. "As you know, I've announced it, I find Katharine very attractive and I think when she said 'exchange numbers,' I thought things I'd like to exchange with her."
"Numbers," Brand then shouts, adding, "Genes. Genetic info. Data."
McPhee laughs along with the audience, but appears visibly uncomfortable, asking "What is happening right now?"
The American Idol star then continues to tell her story to Fallon, but turns towards Brand apologetically while mentioning her then-husband, Nick Cokas.
"Yeah, but look how you dropped the Jets, you could drop that guy any day," Brand says, before breaking into a dance.
"I'm only joking," Brand adds. "You must never destroy a marriage, unless you're really bored."
Fallon and McPhee attempt to resume the interview, but Brand taps her on the shoulder and says, "I didn't know you were married, I'm going to f*** off," before walking off stage.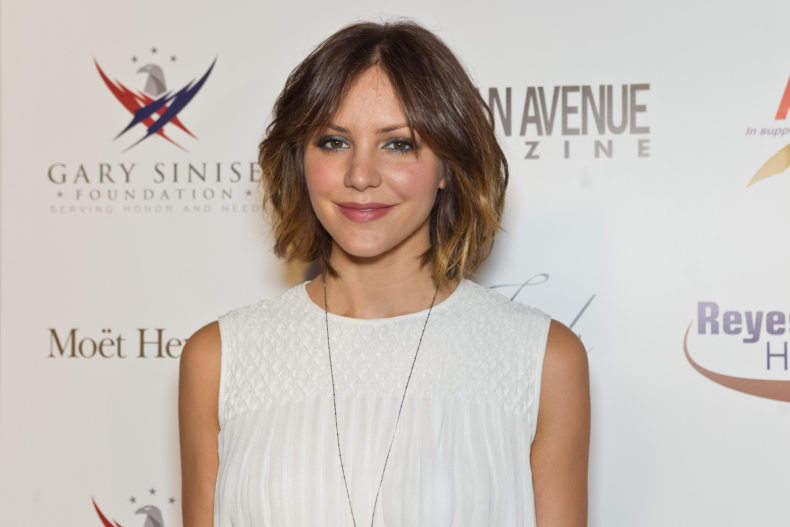 Other incidents to resurface since the allegations broke include comments made by Australian pop star Dannii Minogue. The singer called Brand "a vile predator" after appearing on his MTV talk show in 2006, after he allegedly badgered the then-34-year-old for her phone number and stared at her breasts.
A 2013 Vogue interview with Brand's ex-wife, Katy Perry, has also reappeared, in which she described him as "controlling." The pair wed in 2010 after meeting on the set of Forgetting Sarah Marshall in 2008, but Brand ended the marriage in 2011 via text. The couple divorced the following year.
Social-media users have also suggested that the male comedian Katherine Ryan confronted over his predatory behavior is Brand. In his interview with Channel 4's Dispatches, English comedian Daniel Sloss said that female comedy stars would warn each other about Brand.
However, fans of Brand have defended the star, with some promoting the conspiracy theory that his conservative ideology has prompted the accusations. In the 2010s, Brand was known for his left-wing comedy that poked fun at the British Establishment, but appears to have since embraced more right-wing beliefs.
Fallon has also come under fire in recent weeks over reports that he fostered a "toxic workplace." Several anonymous employees accused the 48-year-old talk-show host of mistreatment on the set of The Tonight Show With Jimmy Fallon, which he has hosted since 2014.
Newsweek has reached out to Russell Brand, Jimmy Fallon and Katharine McPhee for comment via email.