Republican efforts to impeach President Joe Biden suffered a blow after fresh evidence emerged showing his bid to remove Ukrainian Prosecutor General Viktor Shokin in 2015 represented U.S. government policy. A professor in U.S. politics told Newsweek that unless opposing evidence was uncovered, the impeachment was likely to backfire on the Republican Party, a view supported by some other analysts and political figures.
Then-Vice President Biden met Petro Poroshenko, the Ukrainian president at the time, in December 2015, after which he claimed he'd threatened to withhold $1 billion in U.S. aid to Kyiv, unless Shokin was removed from his post, which he subsequently was.
Some conservatives have suggested Biden was attempting to protect Ukrainian energy company Burisma, the board of which his son, Hunter Biden, had joined in 2014, by moving against Shokin. However a pre-meeting memo prepared for Biden by the State Department, dated November 25, 2015, made it clear that removing Shokin was the Obama administration's policy.
The document called for Shokin's "removal," claiming he was "widely regarded as an obstacle to fighting corruption, if not a source of the problem." This document was published by John Solomon, a conservative commentator who has argued Biden did call for Shokin's removal to advance his son's business activities, on his Just The News website.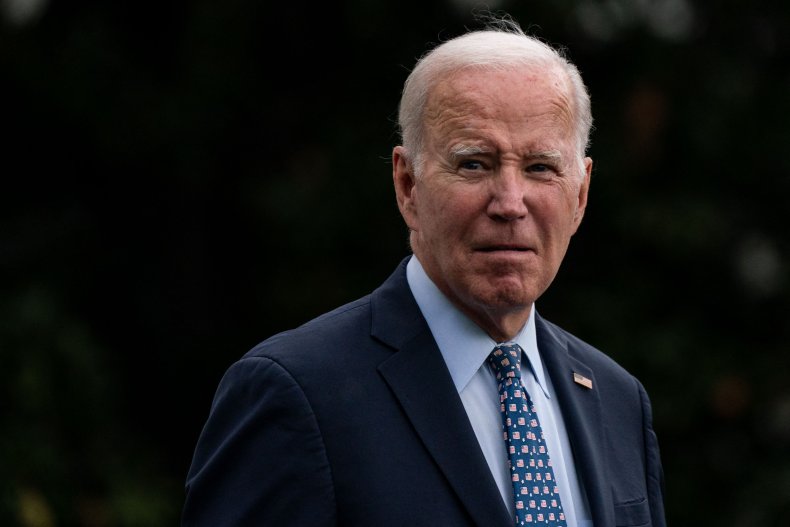 The Claim Against Biden
Speaking to Sean Hannity on Fox News, Solomon argued Biden was motivated by wanting to help his son, despite the memo showing moving against Shokin was U.S. government policy.
He said: "The Biden White House knew that this Shokin investigation posed a political threat to the family, a personal threat to Joe Biden's son's company, the company paying him a million dollars a year.
"And it's in that moment when all this is happening that Joe Biden flips the switch and goes from the recommendation giving the billion dollars to you're not getting the billion dollars until you fire Shokin and son of a b, they fire Shokin."
Biden later recalled his meeting with Poroshenko, stating: "I said, you're not getting the billion. I'm going to be leaving here in, I think it was about six hours. I looked at them and said: I'm leaving in six hours. If the prosecutor is not fired, you're not getting the money.
"Well, son of a b****. He got fired. And they put in place someone who was solid at the time."
Hunter Biden was appointed to the board of Burisma, one of Ukraine's biggest oil and gas companies, in May 2014, holding the position until his resignation in April 2019.
Shokin would later tell Fox News he was removed from office "at the insistence of the then Vice President Biden because I was investigating Burisma."
What We Know
There are, however, no records showing the prosecutor general was actively investigating Burisma at the time with Devon Archer, one of Hunter's business partners, recently telling a congressional committee it wasn't in the company's interest for him to be fired. In August, Biden insisted he "never talked business" with his son.
The Justice Department under the Trump administration also investigated allegations about whether or not Biden was bribed and found claims like Shokin's to be "not supported by the facts."
In a September 2015 speech, Geoffrey Pyatt, then the U.S. ambassador to Ukraine, referred to Shokin by name and said his office was an obstacle to anti-corruption efforts "by openly and aggressively undermining reform". He accused it of undermining Ukrainian and British inquiries into Burisma.
"It was a policy that was coordinated tightly with the Europeans, with the International Monetary Fund, the World Bank. But not only did we not see progress, we saw the PGO (Prosecutor General's Office) go backwards in this period," Victoria Nuland, currently Biden's acting deputy secretary of state, told the Senate Homeland Security and Accountability Committee in 2020, referring to Shokin's dismissal.
However, an EU report dated December 18, 2015, and obtained by The New York Post and Just The News, appeared to contradict part of this claim, saying that progress had been made. "Based on these commitments, the anti-corruption benchmark is deemed to have been achieved," it said, according to the outlets.
House Republican Speaker Kevin McCarthy announced he is initiating an impeachment inquiry into President Biden on September 12, after coming under intense pressure from the right wing of his own party.
Any impeachment effort is highly likely to fail, as it requires a two-thirds Senate majority despite Democratic-aligned lawmakers currently having a narrow majority in the chamber.
Thomas Gift, who heads the Centre on U.S. Politics at University College London, told Newsweek the impeachment process could backfire on Republicans.
"What's clear so far is that Kevin McCarthy is being dragged across the burning political embers by the right flank of his party. Yet the fact that even pursuing impeachment hasn't quieted internal dissent from Trumpist voices just confirms what everyone already realizes: nothing that McCarthy will do will ever be enough for the MAGAverse. So for now, the McCarthy's goal is simple: 'appease, appease, appease,' while still trying to keep his tenuous grip on the speaker's gavel," he said.
"Unless new evidence is uncovered, all of this isn't likely to end well for Republicans. Centrists in the GOP know that trying to impeach Biden not only risks backfiring, but that backfiring is the most likely outcome. There's a reason that both Bill Clinton and Donald Trump never had higher poll numbers than when staring down their own impeachment proceedings."
What Critics of Impeachment Say
A number of Republicans have spoken out against impeaching Biden. These include Representative Ken Buck, who penned a piece for The Washington Post suggesting some of his colleagues "are relying on an imagined history" in their targeting of the president.
"In reality, Shokin was deeply enmeshed in Ukraine's culture of corruption and, far from being a beacon of transparency, was viewed by many in the West—including some conservative Republican senators—as an obstacle to anti-corruption reforms. There is, in fact, no evidence that Shokin was engaged in an investigation of Burisma, or that Joe Biden's role in his firing was in any way connected to Burisma," he wrote.
Joyce Vance, who served as U.S. attorney for the Northern District of Alabama in the Obama administration, wrote on X: "GOP has been trying to find evidence Biden's calls to remove Ukraine's prosecutor general were part of a grift--in fact it was official US policy at the time & others in gov't called for it too. No evidence of high crimes & misdemeanors."
Support for Impeachment
Referring to impeachment in an interview with Fox News on Sunday, Buck's fellow GOP Representative Michael McCaul said: "We don't have the evidence now, but we may find it later."
Mitt Romney, the outgoing Utah Republican Senator who voted twice to impeach Trump, told journalists an impeachment inquiry is "not inappropriate," commenting: "Inquiring is something the president and the White House could have avoided, but they've been pretty quiet."
However, he added there had been "no allegation" constituting a high crime or misdemeanor by Biden, as would be required for full impeachment.
Donald Trump was impeached twice, over claims he abused his power by pushing Ukrainian President Volodymyr Zelensky to investigate the Biden family and that he incited insurrection, but he was acquitted both times as the two-thirds Senate requirement wasn't reached.
Newsweek has contacted the White House for comment by email.
Update 9/19/23, 11:15 a.m. ET: This story has been updated with additional information.
Update 9/20/23, 5 a.m. ET: This story has been updated with additional information.
Update 9/20/23, 5:30 a.m. ET: This story has been updated with comment from Thomas Gift.
Update 9/20/23, 6:30 a.m. ET: The headline on this story was updated.