"That's valor," President Joe Biden announced at a ceremony awarding the Congressional Medal of Honor to retired U.S. Army Captain Larry L. Taylor in the White House's East Room on Tuesday. In June 1968, Taylor, then a lieutenant, braved superior enemy fire to fly in his AH1-G Cobra attack helicopter to rescue four American soldiers pinned down in a Vietnamese village. Taylor was nearly out of fuel and ammunition, and the Cobra had never before been used to extract endangered troops, but he heroically saved his comrades from near-certain death or captivity.
But what should have been a solemn occasion of military honors turned into a farce as President Biden bizarrely wandered out of the room before the ceremony concluded, leaving Taylor awkwardly alone on stage while many in the audience looked around and murmured in confusion.
Social media immediately lit up with criticism of the President, much of it debating whether he was intentionally disrespectful to an American hero or suffering from worsening cognitive decline. Even Leftist commentators were critical, berating Biden for removing his mask for several minutes as he stood close to Taylor to award his medal. First Lady Jill Biden had tested positive for COVID-19 the previous day, and the president could have been considered a risk to Taylor, who is 81.
As Biden's term in office slouches with historically low approval ratings and little good news, it defies belief that the incumbent is entering his ninth decade physically or mentally suited for effective service. From the very first days of his presidency, his administration's protocols have seemed practically designed to conceal onset dementia.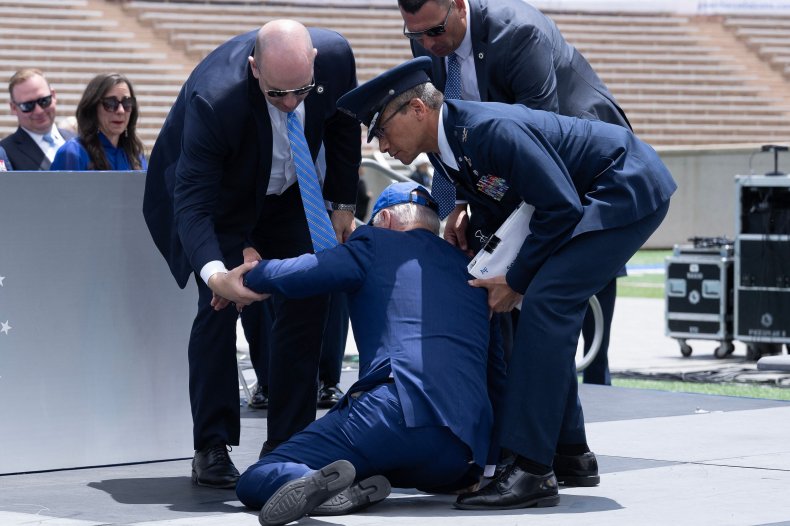 Biden is the first president in modern times to end press conferences without taking impromptu questions from the White House press corps. The "lid" time that ends presidential activity for the day generally closes in the early afternoon. In public statements, Biden often loses his place, mispronounces words, forgets names, interjects inapposite or inappropriate phrases, veers into weird digressions, and fails to complete sentences. At major events, he has been filmed unsure of his surroundings, acting disoriented, and falling asleep. The President stumbles and falls with alarming frequency for a man who must stand toe-to-toe against Vladimir Putin and Xi Jinping. And when challenged by reporters or frustrated by White House aides, he lashes out in confused and incoherent rages.
All of these episodes are worryingly consistent with severe cognitive decline. Yet Biden has repeatedly refused to take any medical test for that condition.
While Biden has never been known for his suave persona—he described himself in December 2018 as a "gaffe machine"—all signs point to his possible condition worsening to the extent that it is now nearly impossible for even his most shameless apologists to deny it.
Until recently, Biden's defenders could at least try to deflect criticism by pointing to his apparently lucid past role in brokering deals, changing the subject to former president and current Republican frontrunner Donald J. Trump's mounting woes, relying on the compliant mainstream media to avoid asking unflattering questions, or simply ignoring any concerns.
The general public, however, no longer buys it. According to a Washington Post/ABC poll taken in May 2023, only 32 percent of Americans believe Biden has the "mental sharpness" to serve effectively as president, compared to a majority who thought so in May 2020. Only 33 percent believed Biden was "in good enough physical health" to do the job, while nearly 70 percent believed him "too old" to be president. In July, an NBC poll found that 68 percent of Americans believe the President "does not possess the necessary mental and physical health to serve." Some 55 percent identified the issue as a major concern, one that even the slickest Democratic pols can no longer dismiss without alienating a majority of voters. Worst of all, an April 2023 Associated Press/NORC poll reported that an astonishing 73 percent of Americans did not want Biden to run for reelection. For the first time, a majority of Democrats agreed, with 52 percent preferring another candidate to head their party's ticket in 2024.
Biden is nevertheless campaigning for a second term, now polling evenly or at a slight loss in a likely rematch against an opponent who faces 91 criminal charges across four indictments, was found civilly liable for sexual battery, and is demonized on a daily basis by the same media and political establishment that give Biden every possible break. If successful, Biden would continue in office for another five and a half years, or until he is 86, with no indication that his physical or mental health will improve and much evidence that it will decline, perhaps to the point of severe debility or worse.
That may suit progressive Democrats, who have long realized that an impaired president surrounded by a guileless media and self-serving administrative-managerial caste will not resist their agenda. American voters, however, are unlikely to stand for it.
Paul du Quenoy is President of the Palm Beach Freedom Institute. The views expressed are his own.
The views expressed in this article are the writer's own.