Colorado Representative Lauren Boebert will not be charged for public indecency or otherwise, after video footage captured her seemingly being intimate during a public theater performance in Denver on September 10.
Surveillance cameras showed Boebert, the second-term Republican lawmaker representing the state's 3rd District, being escorted out of the Buell Theatre during a live performance of Beetlejuice. Nearly four minutes of footage, captured on CCTV cameras and later shared by Denver Arts & Venues, which runs the Buell Theatre, show Boebert vaping and using her cellphone, in addition to seemingly groping her date, Quinn Gallagher, and being groped by him.
The legislator initially rebuked claims that she vaped or caused a disturbance, joking that she was forced to leave for "laughing and singing too loud." After the footage went viral, she apologized and relayed in a statement that she "fell short of my values" and "genuinely did not recall vaping that evening," adding: "That's unacceptable, and I'm sorry."
A spokesperson for the Denver District Attorney's Office told Newsweek via email on Monday that it has no plans to charge her.
Newsweek reached out to Boebert via email for comment.
Colorado law states that public indecency is committed when a person performs certain acts in a public place, or in a place where the public is likely to see, including lewdly fondling or caressing another individual. Sexual intercourse; lewd exposure of the body but not the genitalia, with the intent to arouse or satisfy a sexual desire; and knowingly exposing one's genitals to the view of another, under the circumstances in which such conduct is likely to cause affront or alarm, are considered public indecency, as well.
According to statute 18-7-301 of the Colorado criminal code, public indecency is a petty offense sex crime punishable by fines and up to six months in prison for more serious offenses. It tends to carry lighter penalties, though, such as 10 days in jail and/or up to $300 fines, in addition to potential probation, community service or mandatory counseling.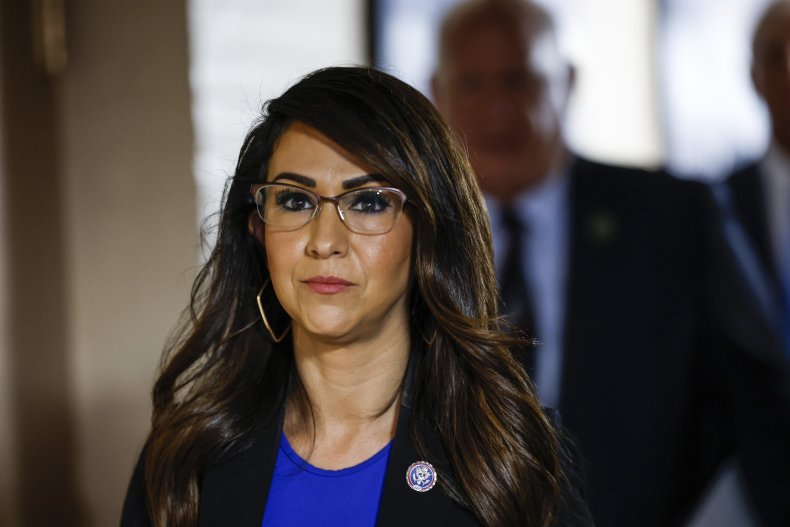 But in most cases, such crimes don't lead to individuals being classified as sex offenders. The law also differs from indecent exposure, which involves an individual knowingly exposing their genitals to satisfy sexual desires.
Lawyers have a difficult time proving public indecency, however, due to the broadness of the statute and the relative nature surrounding the act. Matthew Hand, a Denver-based criminal attorney, says that the law "is vague and overreaching."
"To be blunt, not all intimacy is intercourse, and lewdness is in the eye of the beholder," he states on his website.
Hand said that a good attorney would cross-examine witnesses in such a case to cast doubt about what individuals saw occur involving an individual purportedly committing the crime. In this case, video footage exists and Boebert has apologized.
But a defense attorney would also likely make a case based on revealing any prejudices, dishonesty, and failures of observation and memory.
"Although a theater is a crowded public setting where 'a lewd fondling' could be prosecuted as public indecency, it is unlikely that brief groping, over the clothes while seated in a dark theater, would lead to conviction," Hand told Newsweek. "The acts need to have been 'reasonably expected to be viewed' by others, and a jury must be convinced of that beyond a reasonable doubt."
Jacob Martinez, another Denver-based criminal defense attorney, says on his website that examples of acts that may lead to public indecency charges include public nudity, engaging in sexual acts in plain view, or exposing oneself in a way that is likely to cause offense or alarm to others.
"The key element of public indecency is that the behavior occurs in a place accessible to the public or where it is likely to be observed by others," Martinez states.
Newsweek reached out to Martinez, as well as the Denver Police Department via email for comment.
Update 09/18/23, 11:08 a.m. ET: This article was updated with comment from the Denver District Attorney's Office.