Speaker Kevin McCarthy directed House committees to open a formal impeachment inquiry into President Joe Biden last week.
Republicans claim to have unearthed Joe Biden and his family's wrongdoings with their work in the House Oversight Committee. Amid McCarthy's impeachment inquiry announcement, the House Speaker leveled numerous accusations at the president, alleging a "culture of corruption" among the Bidens.
"Today, I am directing our house committee to open a formal impeachment inquiry into President Joe Biden. This logical next step will give our committees the full power to gather all of the facts and answers for the American public," McCarthy said.
White House spokesperson Ian Sams wrote in a post to social media platform X, formerly Twitter, on Tuesday in response to McCarthy's news: "House Republicans have been investigating the President for 9 months, and they've turned up no evidence of wrongdoing [...] His own GOP members have said so [...] He vowed to hold a vote to open impeachment, now he flip flopped because he doesn't have support Extreme politics at its worst."
On Sunday, in response to a reporter's question about House Republicans' impeachment inquiry, President Biden said "lots of luck" while smiling.
Meanwhile, Joe Biden's son Hunter was also indicted on three gun-related charges on Thursday. Republicans have accused Hunter of shady business dealings with Ukraine, and most notably a scandal involving controversial emails allegedly written by Hunter and obtained by the New York Post that appear to show terms of agreements with foreign companies.
Here is a list of the accusations leveled against Joe and Hunter Biden and what we know about them: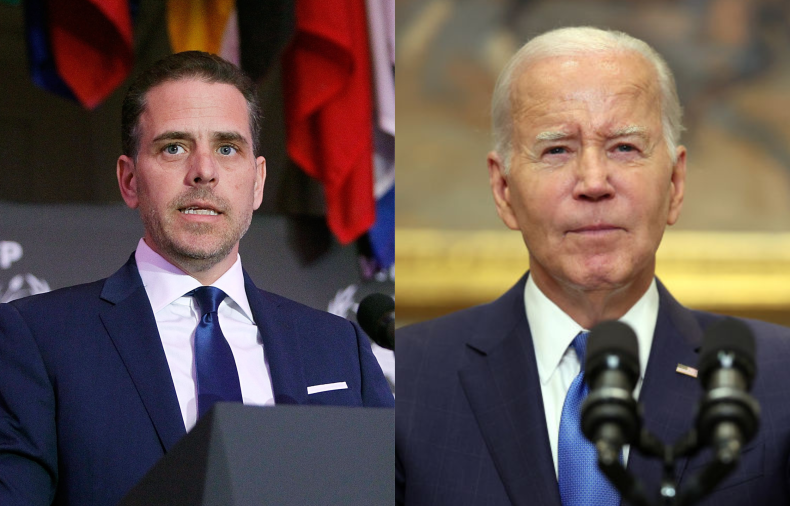 Biden Lied About Foreign Business Dealings
During last week's news conference, McCarthy said Joe Biden lied to the American people about his own knowledge in his family's foreign business dealings. McCarthy said eyewitnesses have testified that the president joined phone calls and dinners with his son's business partners that resulted in millions of dollars and cars for his son and son's business partners.
What we know
Hunter Biden's former business partner Devon Archer, who previously served as a board member of Burisma Holdings, an energy company based in Ukraine, alongside Biden and who co-founded Rosemont Seneca Partners with the president's son, testified to Congress in July in a closed-door meeting. He said that Hunter Biden sought to create "an illusion of access to his father" and put his father on the phone with foreign associates "maybe 20 times" over the course of about 10 years.
However, he also told lawmakers that Hunter Biden never directly involved the president in their financial dealings.
GOP Representative Andy Biggs said Archer told lawmakers that "Burisma would have gone out of business sooner if the Biden brand had not been invoked. People would be intimidated to really mess with Burisma because of the Biden family brand."
"There is not a shred of evidence of a single conflict of interest of President Biden ever doing anything in connection or in relation to Hunter Biden's business ventures, other than advocating for the removal of a prosecutor general who was advantageous to Burisma," Representative Dan Goldman, a New York Democrat, told reporters.
Ian Sams replied on behalf of the White House to Archer's testimony, saying on X, "It appears that the House GOP's own witness under oath debunked their central allegation against the President [...] They keep promising bombshell evidence but over and over, they can't produce any [...] Yet the goose chase rolls on, at the expense of focusing on Americans' real priorities."
It is unclear if President Biden knowingly misrepresented his son's business dealings in Ukraine. However, according to The New York Times, Biden did incorrectly speak amid a 2020 presidential debate by claiming that his son had not made money in China.
Joe Biden did previously address the accusations in September 2019, saying, "I have never spoken to my son about his overseas business dealings."
The Bidens Received Millions of Dollars
McCarthy also accused the president and his family of receiving nearly $20 million in payments through "various shell companies."
What we know
In May Republicans released a 36-page memo, a copy of which was obtained by Newsweek, including redacted images of transactions involving a number of bank accounts reportedly belonging to members of the Biden family. The documents do not include evidence that Joe Biden was ever involved directly in the alleged schemes, or if the payments in question resulted in tangible impact on U.S. policy.
The records do show that Biden family members, including Hunter and Joe's brother Jimmy Biden, received millions of dollars from foreign businesses, but the number provided includes money that also went to associates, not just Biden family members, according to The New York Times.
It is not immediately known to Newsweek if Joe Biden or the White House formally addressed this accusation.
Biden Family Business Dealings Were Flagged as Suspicious
McCarthy said that the Treasury Department alone has more than 150 transactions involving the Bidens and other business associates that were flagged as "suspicious" by U.S. banks.
What we know
In November 2022, the House Oversight Committee announced plans to open an investigation aimed at tying Joe Biden to the alleged finances and business dealings of Hunter. During a news conference, Republican Representative James Comer spoke about the 150 "suspicious activity reports," or "SARs," the Department of Treasury is in possession of related to the Bidens.
A "SAR" is a report filed by a financial institution or other professionals that alert law enforcement to "suspicious transactions" with possible links to terrorism financing or money laundering.
The Justice Department and Senate investigators both reviewed the reports, but did not file any criminal charges, according to The New York Times.
In a previous statement to Newsweek in November, Sams said on behalf of the White House, "Instead of working with President Biden to address issues important to the American people, like lower costs, congressional Republicans' top priority is to go after President Biden with politically-motivated attacks chock full of long-debunked conspiracy theories."
Biden Family Took $5 Million Bribes
"Even a trusted FBI informant has alleged a bribe to the Biden family," McCarthy said in last week's news conference.
What we know
Accusations against the Bidens allege the president and his son of "coercing" officials with Ukrainian gas giant Burisma into giving them each $5 million as part of an elaborate influence-peddling scheme during Joe Biden's time as vice president under Barack Obama.
House Republican Chuck Grassley of Iowa said an FBI document that he had seen detailed unverified claims of a confidential source and revealed that a Ukrainian gas company executive allegedly bribed Joe and Hunter Biden and made audio tapes of phone conversations with them.
According to the informant, the head of Burisma said "it cost 5 (million) to pay one Biden, and 5 (million) to another Biden."
However, Grassley did not say that the FD-1023 form, a document used to record raw and unverified reporting from sources, disclosed any of the supposed conversations between the president, his son and the Burisma official.
Representatives Comer and Grassley subpoenaed the FBI for access to the FD-1023 form in May, and House members were able to view the document behind closed doors in June.
White House officials have said previously that many of the allegations lodged against Biden have either been unsupported by hard evidence or were over-reliant on non-credible sources.
Asked about the bribe allegations in June, Joe Biden said: "Where's the money? I'm joking. It's a bunch of malarkey."
Meanwhile, a central figure in these allegations is Viktor Shokin, Ukraine's former prosecutor general. He has long claimed that Joe Biden pushed for his removal because Shokin was investigating Burisma.
State Department officials and European diplomats have said Shokin was fired because of his failure to prosecute Ukrainian politicians for corruption. Shokin's former deputy, Vitaliy Kasko, also previously stated that while there was once an active investigation into Burisma, it was dormant at the time that Biden, as vice president, joined calls for Shokin's removal.
In January 2018, Biden did boast about withholding a loan to Ukraine until the prosecutor was removed.
"I was supposed to announce that there was another billion-dollar loan guarantee. And I had gotten a commitment from [former Ukrainian President Petro] Poroshenko and from [former Ukrainian Prime Minister Arseniy] Yatsenyuk that they would take action against the state prosecutor. And they didn't," Biden told the Council of Foreign Relations.
"I said, nah, I'm not going to—or, we're not going to give you the billion dollars. They said, you have no authority. You're not the president...I said, call him," Biden continued. "I looked at them and said: I'm leaving in six hours. If the prosecutor is not fired, you're not getting the money. Well, son of a b****. He got fired. And they put in place someone who was solid at the time."
The Justice Department under the Trump administration also investigated allegations about whether or not Biden was bribed and found claims like Shokin's to be "not supported by the facts."
Sams tweeted at the time: "Every time a right-wing talking point about this absurd allegation falls apart under even the slightest scrutiny, the far right moves the goalposts. Informant? Disappeared! Audio tapes? Don't exist! It wasn't investigated? Actually Trump's DOJ/FBI did! Now coercion! Crazy."
Hunter Biden's Laptop
Hunter Biden's laptop gained notoriety one month prior to the 2020 election as part of a New York Post story stating that a man who identified himself as Hunter Biden had gone into a computer repair shop in Delaware to drop off a computer. The Post article cited documents allegedly taken from Hunter's computer to try to back up MAGA Republican claims that Joe Biden shaped American foreign policy in Ukraine to benefit his son.
What we know
The computer repair shop owner, John Paul Mac Isaac, told The New York Times a man who identified himself as Hunter Biden came into his shop and asked to retrieve any data from the computer. Mac Isaac also told the Times that he alerted the FBI about the laptop himself.
The FBI then served a subpoena to Mac Isaac's store weeks later, allowing it to seize the laptop and the external hard drive, the Times reports.
A copy of the laptop's content was also saved by Mac Isaac before the laptop was passed onto the FBI. A copy of the information was passed on to Robert Costello, Rudy Giuliani's attorney, and he in turn forwarded to the New York Post, which ran numerous stories about its contents.
Costello previously told Newsweek in an email that he has "always had the original copy of Hunter Biden's hard drive in [his] possession."
The Post also published what it claimed were emails showing that Vadym Pozharskyi, an adviser to Burisma, emailed Hunter Biden in May 2014 asking for "advice on how you could use your influence" to help the company.
Although the 2014 email is not specifically referenced in its investigation, two computer security experts were asked to verify the contents of the laptop and confirmed the veracity of "a batch of messages from Vadym Pozharskyi" in a portable hard drive said to have originated from Hunter Biden's laptop, according to The Washington Post.
Meanwhile, Hunter Biden has asked the Justice Department in a letter in February to investigate loyal allies of Trump and others who accessed and disseminated information from the laptop.
White House Press Secretary Karine Jean-Pierre was previously asked about the laptop in July and replied that she "cannot comment on any materials from the laptop" and referred journalists to Hunter's representatives.
Hunter Biden Indictment
Special Counsel David Weiss' indictment accuses Hunter Biden of lying about being an addict when he purchased a gun from a federally licensed firearms dealer in October 2018. The indictment from Weiss also alleges that Hunter kept the weapon during an 11-day period that same month "while knowing he was an unlawful user of or addicted to any stimulant, narcotic drug, or any other controlled substance, in violation of federal law."
What we know
Hunter's legal team previously agreed to a plea deal with prosecutors in which he would plead guilty to two misdemeanors for failing to pay federal tax but avoid prosecution on the felony firearms charge.
However, the deal collapsed during a court hearing in late July after a row over whether the president's son would receive sweeping immunity for an ongoing investigation.
Meanwhile, Sams said in a statement on behalf of the White House in June that, "The president and first lady love their son and support him as he continues to rebuild his life. We will have no further comment."