A metal detectorist has found two very rare 2,000-year-old Roman swords in the U.K.
The Roman cavalry swords were discovered in the Cotswold District, complete with the remnants of their wooden scabbards and fitments, a press release from the local government said. The council described it as an "amazing discovery."
Local man Glenn Manning discovered the swords while taking part in a metal detectorist rally. Alongside the swords, he also found a copper alloy bowl. The finds data back to around the year 160 A.D., which was when the Roman empire was in full swing.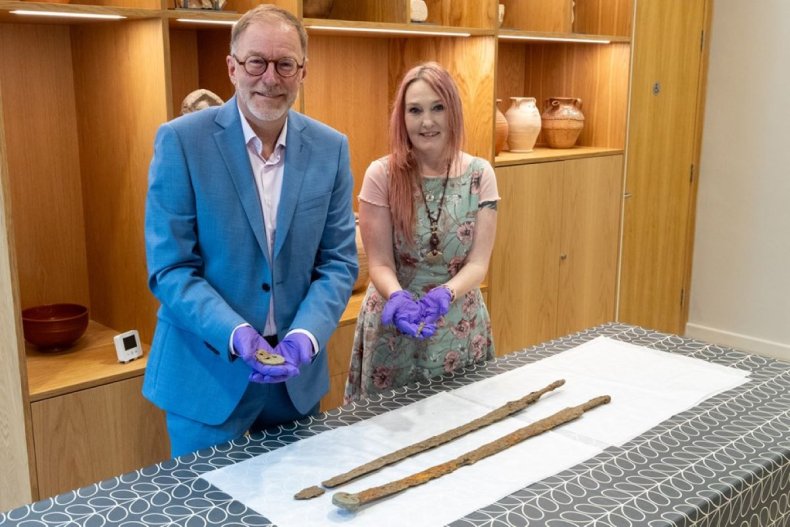 "This new discovery shows what an incredibly deep history the Cotswolds has. People famously asked, 'What have the Romans ever done for us?' Well, they have just given us some amazing examples of weapons used almost 2,000 years ago, when Cirencester was the second-biggest town in Britain. This is truly a remarkable archaeological find and I can't wait for visitors to see them on display in the years to come," local Cotswold councilor Paul Hodgkinson said in the statement.
The swords have a "considerable length," which is the main clue for them being cavalry weapons. These would have been carried by ancient Romans on horseback.
During this time, it wasn't illegal for people to own weapons or carry them while traveling. This is because Roman provinces at the time were often rife with violence and robbery.
The swords were taken to Leicester University, where Simon James, an archaeology professor, took a look at them.
He said these weapons are also commonly known as "spatha."
"In terms of parallels, I can't think of finds of more than one sword being deposited in any similar circumstance from Roman Britain," James said in a statement. "The closest that springs to mind was a pair of similar swords found in Canterbury—with their owners face down in a pit within the city walls, clearly a clandestine burial, almost certainly a double murder."
The finds were then taken to Corinium Museum, where they will be preserved and looked after for future generations.
The Roman Empire, at its peak, spread around Europe and the Mediterranean, to parts of North Africa and western Asia. For this reason, artifacts and ruins can still be seen over a huge area today.
The Romans were in the United Kingdom for more than three centuries. They left a lasting impact after finally withdrawing at the beginning of the 5th century.
Do you have a tip on a science story that Newsweek should be covering? Do you have a question about archeology? Let us know via [email protected].