Officials at the Joint Base Charleston announced Monday evening that debris from the F-35 fighter jet that went missing on Sunday has been found in Williamsburg County, South Carolina.
In a series of posts to X, formerly Twitter, the military base said that parts of the missing aircraft were located roughly two hours north of Joint Base Charleston with the help of local authorities and the Marine Corps Air Station in Beaufort, South Carolina.
"Members of the community should avoid the area as the recovery team secures the debris field," read the statement shared online. "We are transferring incident command to the [U.S. Marine Corps] this evening, as they begin the recovery process."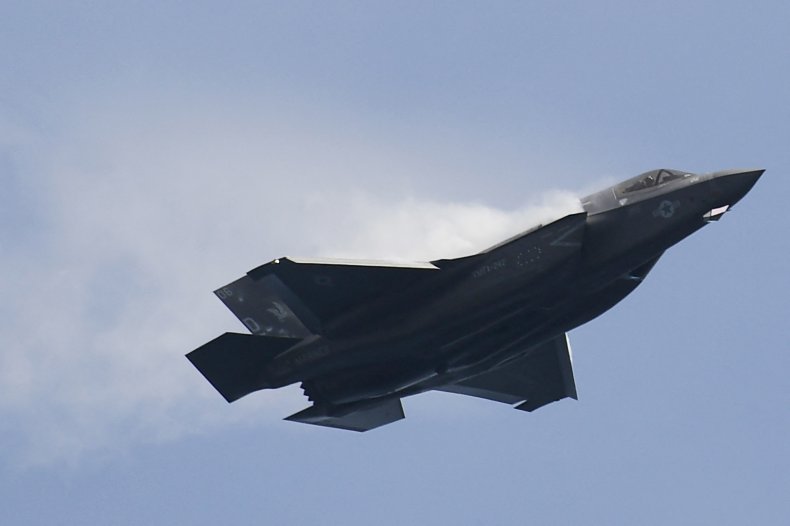 The aircraft—an F-35B Lightning II stealth fighter jet used in atraining squadron with the 2nd Marine Aircraft Wing—was reported missing on Sunday after it was "involved in a mishap," military officials said in a previous statement. Members of the Joint Base Charleston said that the pilot on board "ejected safely and was transferred to a local medical center in stable condition."
"We would like to thank all of our mission partners, as well as local, county, and state authorities, for their dedication and support throughout the search and as we transition to the recovery phase," Joint Base Charleston said in a post Monday.
Newsweek has reached out via email to officials at the base on Monday night for additional information.
The identity of the pilot who was flying the plane before ejecting, as well as details regarding what led to the mishap, have not been released at this time. The U.S. Air Force often uses the term "mishap" to refer to several possible scenarios, such as "any unintended occurrence in the Air or Space Force that results in death, injury, illness or property damage," according to the Air Force Safety Center website.
The missing jet sparked widespread mockery online after military officials asked the American public to relay any information they may have on the location of the aircraft. Jeremy Huggins, spokesperson with Joint Base Charleston, told The Washington Post on Sunday night that due to the jet's stealthiness, it is "more difficult than a normal aircraft to detect."
The F-35 fifth-generation fighters, produced by Lockheed Martin, are among the most advanced stealth jets in the world and are used by the U.S. Marine Corps, the British Royal Air Force and Italy's air force. Each jet is priced at roughly $80 million, Newsweek previously reported.
Update 09/18/23 7:08 p.m. ET: This article has been updated with additional information and background.