Buffalo Bills quarterback Josh Allen had a simple mindset heading into Week 2 after committing four turnovers in a season-opening loss.
"It was still, 'Be me,'" Allen said after Sunday's win.
That worked out just fine. The Bills were back to looking like a playoff team after a rocky performance in Week 1. But they weren't the only team to shine on Sunday. The Baltimore Ravens overcame major injuries to beat a divisional rival and improve to 2-0, while the Washington Commanders continued to show signs of life on offense. Some teams weren't as fortunate — looking at you, Chicago Bears — and had weeks fans will try to forget.
Here is a look at some of the winners and losers around the league Sunday.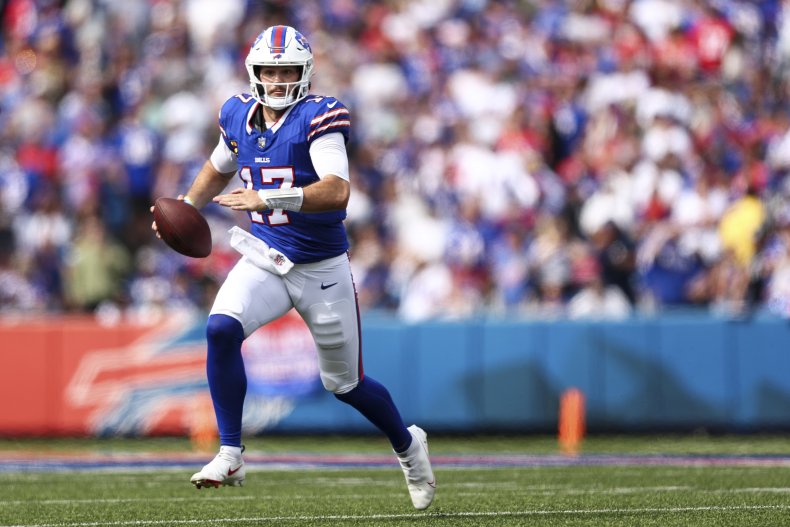 Winners: Commanders May Finally Have an Offense
The Washington Commanders failed to score 35 points on offense in any game over the first three seasons of Ron Rivera's tenure. But the Commanders did just that on Sunday in Eric Bieniemy's second game as Washington's offensive coordinator.
Washington defeated the Denver Broncos, 35-33, despite giving up a last-second touchdown on a Hail Mary. The Commanders are 2-0 and rank seventh in the league in scoring. Rivera's team scored touchdowns on all three of the drives in which it reached the Red Zone. Quarterback Sam Howell threw for 299 yards and a pair of touchdowns, while the team also tallied 122 yards on the ground.
The Commanders' two wins have both come against teams that are now 0-2. But Washington will get some real tests in Weeks 3 and 4 against the Bills and Philadelphia Eagles.
Loser: Brandon Staley's Job Security
The Los Angeles Chargers dropped to 0-2 this season with a 27-24 overtime loss to the Tennessee Titans. Head coach Brandon Staley has a franchise QB in Justin Herbert and a roster generally thought to be one of the best in the NFL. But the Chargers are off to an underwhelming start for a team widely favored to make the playoffs.
The Chargers offense, led by new offensive coordinator Kellen Moore, converted only two of 14 third-down attempts during the game. Herbert threw for 305 yards and two touchdowns on the day, but that may have been the lone positive.
Staley seemed agitated postgame when asked about the Chargers' blown playoff game last season and if that loss has carried into the new campaign. But if wins don't start piling up soon for the Chargers, who led by double-digits on Sunday, Staley could be on his way out before the playoffs begin this time around.
Winners: Josh Allen, Geno Smith Return to Form
The Bills and Seahawks both reached the playoffs last season but started off their 2023 campaigns with humbling losses.
Buffalo fell to the New York Jets in overtime, 22-16, despite Aaron Rodgers leaving early in the first quarter. Allen threw three interceptions and lost a fumble in the loss. The Seahawks were blown out at home by the Los Angeles Rams, 30-13, and QB Geno Smith threw for only 112 yards. A week can certainly change things.
The Bills were back to looking like a Super Bowl contender with a 38-10 shellacking of the Las Vegas Raiders in Week 2. Allen bounced back and threw for three touchdowns, while the Bills defense forced three turnovers and held the Raiders to 55 rushing yards. Smith also returned to Pro Bowl form in a shootout 37-31 win over the Detroit Lions in overtime. The signal-caller threw for 328 yards and two touchdowns in the win.
Oh, and he was involved in this humorous exchange:
Losers: Justin Fields and the Chicago Bears
The Bears are a mess.
Chicago dropped its Week 2 game against the Tampa Bay Buccaneers, 27-17, to fall to 0-2 on the season. The Bears have now lost 12 consecutive games dating to last year. Quarterback Justin Fields threw two more interceptions and his pocket presence is leaving Bears fans frustrated. Consecutive screen pass calls late in the fourth quarter, including one that was picked off and returned for a touchdown, drew plenty of criticism.
Defensively, Chicago has allowed the second-most points in the league, has only one sack through two games, and has yet to force a turnover. Bear Down?
Winners: Ravens Overcome Injuries
The list of significant players out of Baltimore's lineup with injuries is a long one.
Starting running back J.K. Dobbins? Out for the season. Offensive linemen Ronnie Stanley and Tyler Linderbaum? Week-to-week. Safety Marcus Williams? Out for "a while." And that's not even the end of it. Still, the shorthanded Ravens managed to defeat the reigning AFC North champion Cincinnati Bengals, 27-24, to improve to 2-0. Former MVP Lamar Jackson threw for two touchdowns on the day despite missing a chunk of his starting offensive line.
Losers: Zach Wilson and the Jets Offense
It wasn't supposed to be like this for the Jets.
The days of Zach Wilson under center were thought to be history. Then Rodgers tore his Achilles on the team's first offensive drive of the season. The Jets managed to defeat the Bills and jump out to 1-0 without Rodgers. But going against the daunting Dallas Cowboys defense was too tall a task. Wilson threw three picks, Gang Green managed only 64 rushing yards, and the Jets lost, 30-10.
Jets players were frustrated with the performance after the game, including running back Breece Hall. The second-year running back only ran the ball four times in the loss, as did veteran Dalvin Cook. The two backs combined for 16 rushing yards.
"I mean, I only had four touches," Hall said. "That's why we struggled. But it is what it is. We just got down early today and kind of just abandoned the run. I feel like with any team that type of stuff happens, that's how it is. You feel like you've got to get back in the game and stuff like that. It just slips away. So that's what it was."
Multiple reports last week indicated that Rodgers was hoping to be healthy by the time the NFL playoffs start. If the Jets offense keeps performing the way it did in Week 2, he won't need to worry about that.
Winner: Puka Nacua Continues to Shine
Fifth-round draft picks don't usually produce the way Los Angeles Rams wide receiver Puka Nacua has through two games. Then again, most players in general don't.
Nacua has caught a league-high 25 passes for 266 yards through two weeks this season.
That includes 15 catches on 20 targets for 147 yards in Sunday's 30-23 loss to the 49ers. The Rams may have dropped a game to a divisional rival, but seem to have found a reliable top-target for quarterback Matthew Stafford while All-Pro Cooper Kupp is injured. Nacua's 25 catches are the most by any rookie through two games in NFL history and the most by a rookie in any two-game span.
"He's a stud," Rams coach Sean McVay said after the game. "The game makes sense to him. Physically and mentally tough. Works really hard. He's very inquisitive. He asks a lot of questions, and he's got great guys to be able to lean on."
Losers: Colts, Bengals Deal With Injuries at QB
Indianapolis Colts rookie QB Anthony Richardson dazzled with two rushing touchdowns within the first six minutes of Sunday's game. But the sizzling start to Week 2 came to an abrupt end for the Colts. The rookie QB left the game with a concussion—marking the second time in two weeks that Richardson has not completed a game because of an injury.
The No. 4 overall pick thrives on making plays with his feet. But staying healthy is going to be the key for Richardson, whose status for Week 3 remains uncertain.
The Bengals also know all about injuries at the quarterback position. Pro Bowler Joe Burrow aggravated a calf injury as Cincinnati fell to 0-2 on Sunday. Burrow said he "tweaked" his right calf on the final offensive drive of the loss to the Ravens. Bengals head coach Zac Taylor said Monday that it is "hard to say" whether Burrow will play in Week 3.
Winner: Arizona Cardinals Avoid Win
Yes, the Cardinals lost. No, that's not a bad thing.
Arizona is generally considered one of the worst teams in the NFL—if not the worst. The Cardinals sure backed that up on Sunday. Arizona blew a 20-0 halftime lead and ended up losing, 31-28, to the New York Giants.
Quarterback Daniel Jones led the Giants on five second-half scoring drives to avoid an 0-2 start to the season. But the Cardinals did drop their second consecutive game. And that will only help the team's chances at finishing with the worst record in the league (and the No. 1 overall pick).
Loser: Chiefs OT Jawaan Taylor
Chiefs right tackle Jawaan Taylor was the topic of debate in Week 1 when fans and reporters alike commented on how the offensive lineman appeared to get out of his stance before the snap.
Taylor's performance in Week 2 was perhaps more notable, just not for good reasons. The 25-year-old was penalized five times and briefly pulled from the game in Kansas City's win over the Jacksonville Jaguars. Sunday was Taylor's second game with the Chiefs since signing an $80 million deal to join the franchise this offseason.
The tackle is the NFL's most penalized player since entering the league in 2019, per ESPN, committing 49 penalties in that timeframe. The second-most penalized player? Donovan Smith, Kansas City's other starting offensive tackle. Chiefs coach Andy Reid said that Taylor may need to change his approach to avoid penalties.
"He's naturally quick without having to cheat on that thing or get caught on it, and he's strong, so he doesn't need to do that," Reid said. "He's a smart kid. We can fix it."
Uncommon Knowledge
Newsweek is committed to challenging conventional wisdom and finding connections in the search for common ground.
Newsweek is committed to challenging conventional wisdom and finding connections in the search for common ground.
About the writer
Robert Read is a Newsweek writer and reporter based in Florida. His focus is reporting on trending sports stories. Robert joined Newsweek in 2023. He is a graduate of the University of Iowa. You can get in touch with Robert by emailing [email protected]. Languages: English.