Cleveland Browns Nick Chubb may be out for the rest of the season with a knee injury, but at least he knows the fans are still right behind him.
The running back was carried off the field on Monday night after severely injuring his left knee during the second quarter against the Pittsburgh Steelers.
After Browns head coach Kevin Stefanski told reporters that the 27-year-old would likely be sidelined for the remainder of the regular season, fans reached out on social media to show their support—including LeBron James.
"DAMN MAN!!!!" the 38-year-old basketball legend wrote on X, the social network formerly known as Twitter. "Nick Chubb. Praying for the absolute best."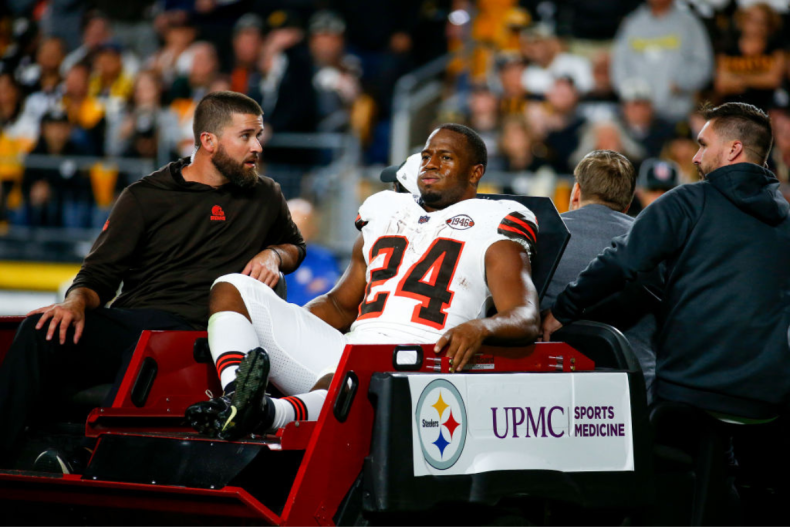 "Wishing Nick Chubb all the best. Horrible, horrible injury," said Blaynos.
"Haven't even seen the video of the Nick Chubb injury yet but just hearing the crowd's reaction alone made my stomach sink," wrote G.
"Gutted for Nick Chubb," said JJ Watt. "Injuries suck man. They absolutely suck."
"Damn! I'm hurting to even see that replay for you #nickchubb get well soon bro," wrote Jay. "You are in my prayers."
The football star crashed into Steelers safety Minkah Fitzpatrick during a 5-yard run. Chubb's teammate attempted to help him stand up, but he declined and grabbed his knee in pain. Fitzpatrick suffered minor injuries in the collision and returned to play, but the was later ruled out due to a chest injury in the third quarter for which he was later taken to the hospital for checks.
Chubb's stomach-churning injury was caught on camera, although ESPN refused to air repeats of the footage. This is the second time Chubb has injured his left knee, after suffering a dislocation and tearing three ligaments while playing college football in Georgia in 2015.
The fourth-highest-paid running back in the NFL and the 29th highest-paid player overall, Chubb's is known as a hard worker who is dedicated to his career. Stefanski has praised the running back on several occasions, previously telling the Bull and Fox radio show "I like everything about him."
"Just doesn't say much. He comes to work and does his job," he said. "There's a way to lead without being a rah-rah guy. You don't have to be making speeches.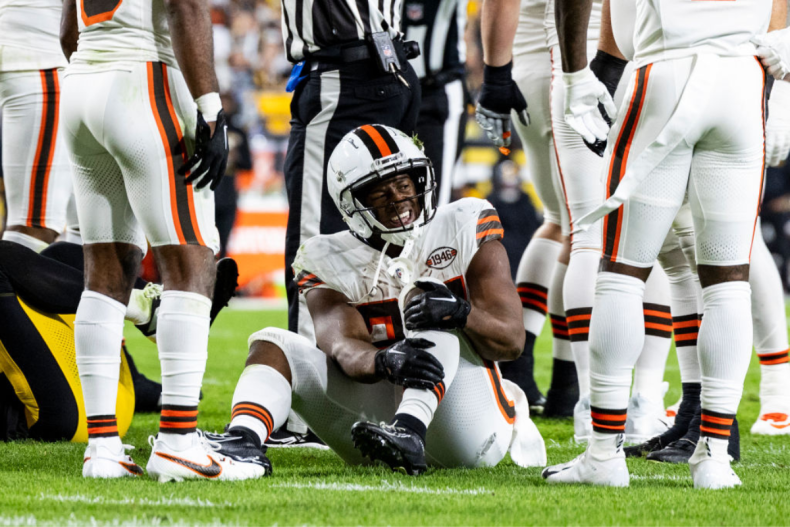 "His teammates are very, very keenly aware when [he's] in the building and on the field. He's about his business and about working. That's something I really respect."
Despite his obvious value, Chubb's injury is unlikely to affect the Browns' Super Bowl odds too much, according to sports betting company The Action Network.
While quarterback Aaron Rodgers' Achilles injury downgraded the New York Jets from 7th place to 17th in bookies' odds, The Action Network only dropped the Browns by two spots, from 11th to 13th due to a strong offensive line.