The cliché may say that defenses win championships, but modern football pays quarterbacks the big bucks. If you have any doubt about that reality, just consider Patrick Mahomes.
Although the signal-caller was already on a mammoth 10-year contract, falling behind some of his peers prompted him and the Kansas City Chiefs to talk turkey. And when the dust cleared, Mahomes' made financial history yet again. His restructured deal will now pay more than $200 million over four years, and, perhaps more important, that money is fully guaranteed.
Contract restructuring usually provides the team with some extra cap space, and Mahomes' is no exception. But at this point Chiefs fans probably shouldn't start drawing up hypothetical trades to bring new talent to Arrowhead Stadium.
Let's look at why that might be the case.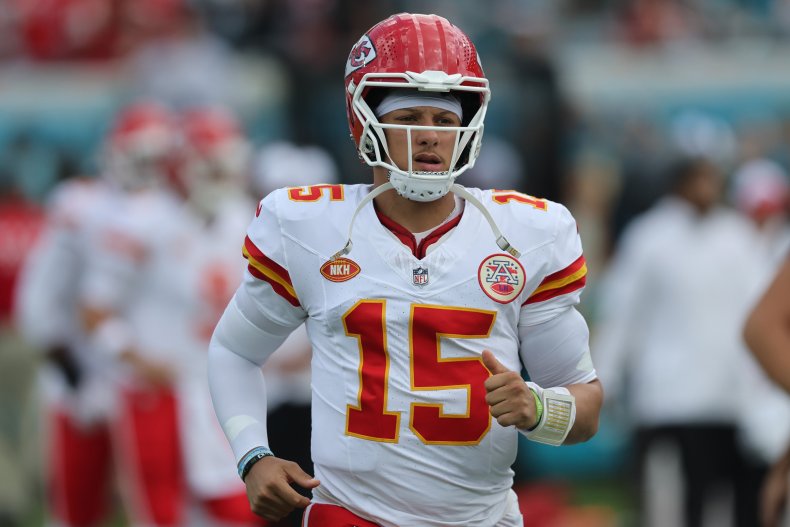 Mahomes' Deal Gives Some Salary Cap Relief in '23
When news of the newly restructured contract broke, everyone's collective eyes focused on the massive amount of money changing hands. There wasn't much coverage of how the deal affects the KC's salary cap.
While it's possible that we simply don't know the full details at this point—salary cap management can be something of an enigma, even to those who are immersed in the NFL—one detail has emerged. As sportswriter Field Yates noted on X (formerly Twitter), the most recent restructuring does provide the Chiefs with $2.5 million in extra space for the 2023 season.
That now leaves the reigning champs with a shade over $5 million to work with, according to website Over the Cap.
That Cap Space Usage Probably Won't Be Exciting
With that newfound financial wiggle room and the offense's (relative) struggles this season, some Chiefs fans immediately started dreaming of a trade for a top-tier receiver like Mike Evans. In reality, though, that sort of deal doesn't immediately seem to be in the cards.
First, we can return to Yates' tweet. In that post, he suggested that the extra cash would be used to help in-season finances. Think of the small moves that are necessary over the course of a season, like bumping someone up from the practice squad or signing a depth free agent. They might not be exciting, but you never want to be in a position where you need to cut someone to simply fill in the depth chart.
There's also the question of fitting a traded player into the lineup. Everything we've heard about Andy Reid's playbook suggests that it's extremely complex, and it would be naive to expect someone to show up and step into the team without missing a beat. Pro athletes are also human beings and can take time to adjust to a new environment. Just because you can fit someone's pro-rated salary under the cap doesn't mean you should.
Beyond that, it would be wise for KC to somewhat future-proof the roster. While the club has very clearly hitched its metaphorical wagon to Mahomes, you can't win football games with literally one man on the roster.
Trading for someone like Evans would presumably require giving up draft picks, and those are a key way to add cost-effective talent. Consider current players like Nick Bolton and Creed Humphrey. If you were trying to sign them as free agents, you'd be paying a significant premium.
And, on the subject of the Chiefs' current roster, some players have to be re-signed. Again, the Chiefs have accepted—and will continue to accept—some level of enforced churn, but you can't lose every free agent every summer.
Consider the 2024 offseason as an example. Even if keeping Chris Jones under contract is potentially impossible (that's a discussion for a different day), KC will also be staring down L'Jarius Sneed, Derrick Nnadi, Willie Gay, Mike Danna and Tommy Townsend hitting free agency. If you want to keep some of those players on the roster, allotting tens of millions of dollars to a new receiver (assuming that a trade comes with a contract extension) might not be the best use of funds.
And while it's easy to focus on KC's win-now window, the roster also features some talented young players outside of the veteran core. That's a gift, as the cupboard isn't completely dry, but it's also a curse. When those rookie contracts expire, there'll be some big-time paydays on the horizon.
Is there cap space to be had? Of course. Contracts can always be restructured, and there are some (potentially) obvious cut targets, like Marquez Valdes-Scantling. And maybe the Chiefs will find a deal that's too good to pass up and decide to push the boat out.
At this point, though, it's probably safest to keep the powder dry. Even when you're in a win-now window, discretion can be the better part of valor.
And, if nothing else, the restructure bumped up Mahomes' money through the 2026 season. That, not the 2023 campaign in isolation, is really the Chiefs' window.
Uncommon Knowledge
Newsweek is committed to challenging conventional wisdom and finding connections in the search for common ground.
Newsweek is committed to challenging conventional wisdom and finding connections in the search for common ground.
About the writer
Joe Kozlowski is a Newsweek reporter based in New York City. His focus is reporting on trending sports stories. Joe joined Newsweek in 2023. He is a graduate of NYU's Gallatin School of Individualized Study. You can get in touch with Joe by emailing [email protected].
Languages: English.