Pilots must "do nothing" on planes as they all run on autopilot these days, right? Wrong. The claim was quickly shut down in a viral video by an airline pilot who debunked some misconceptions about what pilots actually do on planes.
The clip, which has 5.5 million views, was posted on September 6 by Gary Baumgardner—known as @garybpilot on TikTok.
Baumgardner is a 36-year-old airline pilot who is currently based at LAX airport in Los Angeles. He was hired by a regional airline at the age of 20 in 2007, he told Newsweek.
The TikTok footage begins with a clip of a man asking: "What the hell do pilots do for 18-hour flights, like New York to Singapore? All they need to do is take off and land." The clip appears to be from an Instagram video posted by Idris Ali (known as @idrisaliwastaken on TikTok).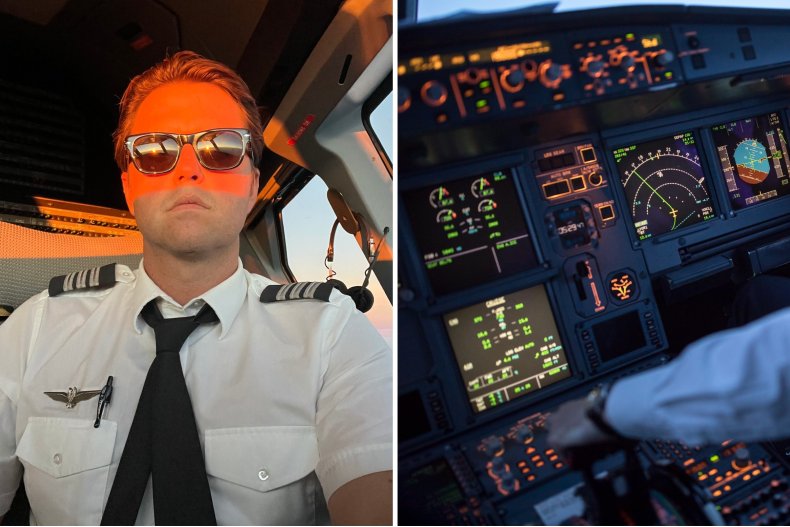 Baumgardner told Newsweek that one of the most misunderstood aspects about the profession is that the planes "fly themselves."
He explained: "While it is true we have tools and automation such as the autopilot, there are so many other things that are required to be a pilot. Not to mention, all pilots are required to be able to fly without the autopilot. Training is expensive and takes years."
The post comes as being a pilot was placed among the "100 Best Jobs" in the 2023 annual ranking by U.S. News, coming in at 48 this year.
The job ranked fourth among the listing's "Best Social Service Jobs" and 10th among the "Best Paying Jobs." A pilot's 2021 median salary in the U.S. was reported to be $134,630, according to the Bureau of Labor Statistics.
Pilots Are Like Baseball Players in the Field
In response to the question posed in the viral TikTok clip, Baumgardner said in the video: "I just finished a long flight, actually. It wasn't quite 18 hours, but I'd be happy to answer that. I just wanted to set the record straight and clear up a couple of misconceptions there."
The pilot said in the video: "When you say that 'you do nothing but take off and land,' that's not entirely accurate...everybody thinks we're like Homer Simpson up there, there's just like a big button, we push the button and sit there and call the autopilot and we do nothing."
However, "if you're flying along and a thunderstorm shows up, the autopilot cannot just automatically direct you out of that...we have to do that," he added.
Baumgardner told Newsweek that pilots are similar to baseball players in the field when it comes to emergencies. "Many players will go most of the time or entire innings without much activity. However, when the ball does come your way, you have the skill, ability and experience to do what others can't," he said.
The plane's autopilot function is "a tool the way a bat is a tool for a Major League Baseball player when he wants to hit a home run," he said.
He added that if air traffic control (ATC) "tells you to climb or descend or turn, that just doesn't happen with the autopilot, we have to do that."
He added that there are also "logs, ATC calls, all kinds of other things, system checks that we have to do—and that's just if we have nothing else going on that's non-normal or emergencies."
Do Pilots Get to Sleep During Flights?
Baumgardner said that pilots do indeed catch some sleep on a plane. He said in the clip: "Don't quote me on the numbers, but on flights over eight hours, you have three pilots and I believe for flights over 12 hours, you have to have four pilots. I know for a fact that if you have a flight that's 18 hours long, you have four pilots. We actually have our own beds and bunk beds up there..."
For planes that don't come with bunks, a first-class seat is reserved for pilots so they can lay down and get some rest. "But most of the long international flights have their own crew rest bunks for us," he said.
Do you have a travel-related video or story to share? Let us know via [email protected] and your story could be featured on Newsweek.