Prince William met the U.N. secretary-general during a New York visit in which he pitched himself as an international statesman just like Prince Harry sought to do.
The Prince of Wales visited the Billion Oyster Project, where he put on waders and got waist deep in the Hudson River on the first day of his visit to America.
Kate Middleton remained in Britain, meaning his U.S. outing is missing the aesthetic fireworks that royal fashion brings, and just days after Meghan Markle lent precisely that kind of glamor to Prince Harry's Invictus Games.
However, William's pitch on U.S. soil is a little different to your average royal tour.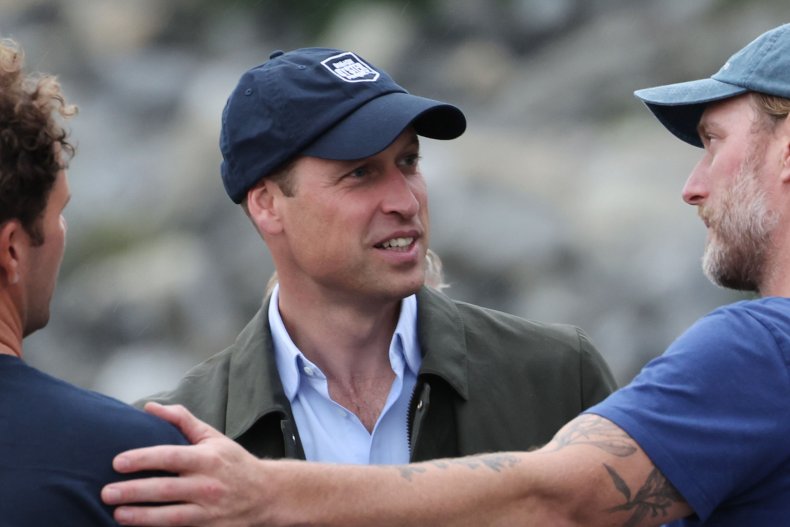 While William's opening salvo in New York may be less attention grabbing, it positioned him in what is increasingly becoming a highly coveted role in royal circles—that of international statesman.
After the Oysters, the prince later visited United Nations headquarters where he thanked Secretary-General António Guterres for supporting his climate competition the Earthshot Prize, which helps fund innovative projects aimed at saving the planet.
The pair discussed the "efforts required to accelerate the fight against climate change and protect the environment," a U.N. spokesperson told Reuters.
William thereby got to tread the boards on a global stage that Prince Harry has twice sought to occupy, first in 2021 when Meghan told reporters they had a "lovely meeting" with Deputy Secretary-General Amina Mohammed at the U.N.
Then, Prince Harry gave a keynote speech for Nelson Mandela Day at the U.N. General Assembly on July 18, 2022, in which he praised the former South African president's "vision of a freer, more peaceful world."
William, however, was able to go one better than Harry and Meghan by meeting the actual secretary general rather than the deputy ahead of the Earthshot Innovation Summit, where the finalists of this year's Earthshot Prize will be announced on Tuesday.
Also there will be Bill Gates, former New Zealand Prime Minister Jacinda Ardern and Caroline Kennedy, U.S. ambassador to Australia, daughter of JFK.
The prince was full of praise for America, saying: "It's so good to be back in United States. No one does optimism and ingenuity like the American people, so it's only right we unveil this year's Earthshot finalists in New York City."
And on climate change, he added: "The challenge may feel huge, but as John F. Kennedy taught us, we rise to the challenge not because it is easy, but because it is hard. And vital."
Jack Royston is Newsweek's chief royal correspondent based in London. You can find him on Twitter at @jack_royston and read his stories on Newsweek's The Royals Facebook page.
Do you have a question about King Charles III, William and Kate, Meghan and Harry, or their family that you would like our experienced royal correspondents to answer? Email [email protected]. We'd love to hear from you.