Chechen leader Ramzan Kadyrov is in a critical condition amid his ongoing health problems, according to Ukrainian intelligence.
Andriy Yusov, a representative for the Ukrainian Defense Intelligence, told the Belarusian news site Nexta that Kadyrov's current health status had been confirmed by both "medical and political circles." The Chechen leader has reportedly faced health problems due to ongoing kidney issues and recently blamed his worsening health on his personal doctor.
"This is not about injuries. Other details need further clarification," Yusov told the outlet, according to a report from Nexta posted to X, formerly Twitter. "He has been sick for a long time, and we are talking about systemic health problems."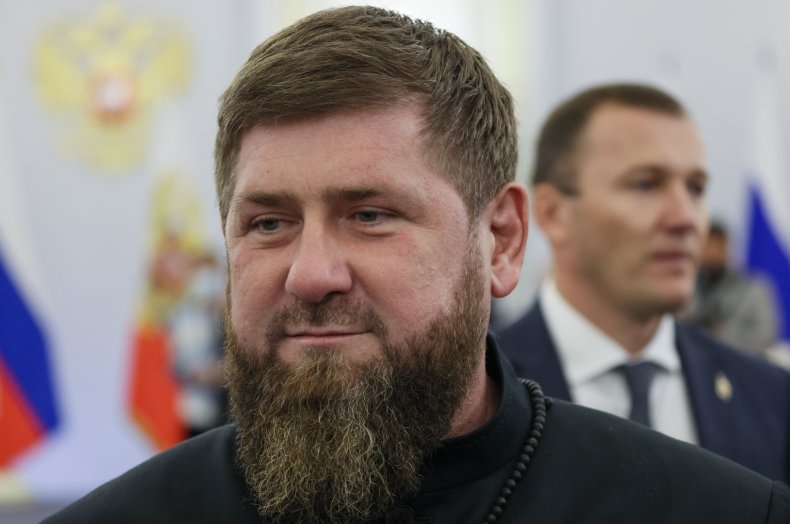 Yusov's comments were also confirmed by Ukrainian state news agency Ukrinform. Obozrevatel, an online Ukrainian media outlet, reported earlier this week that Kadyrov had fallen into a coma and was flown to Moscow to seek treatment.
A close ally to Russian President Vladimir Putin, Kadyrov has been nicknamed "Putin's attack dog" and has supported Moscow's invasion of Ukraine, including deploying his own troops to fight along the front lines.
The Chechen leader was also one of the first public figures to condemn the brief Wagner Group rebellion against Moscow in June, led by the now-deceased Yevgeny Prigozhin.
The U.S. State Department sanctioned Kadyrov last month for his reported role in the deportation of Ukrainian children from Russia-occupied territory, an ongoing act by the Kremlin. In a video message earlier this month, Kadyrov demanded that the U.S. sanctions, which also targeted his mother, Aymani Kadyrova, be removed, and called Washington's decision "a deliberate and cynical disregard for all ethical norms."
"I had already ceased to be surprised by the illogical sanctions decisions of the US and the West," Kadyrov said in his video. "And suddenly again, now my own dear mother has been put on the list. The entire world knows that she is engaged only in charitable activities."
Kadyrov was also accused earlier this week of murdering his personal physician and former Chechen deputy prime minister, Elkhan Suleymanov, who the Chechen head reportedly blamed for his sudden worsening health. According to the Telegram channel VChK-OGPU, which claims to have inside information from Russian security forces, Kadyrov accused Suleymanov of poisoning him and was rumored to have buried the doctor alive.
Newsweek previously reported that there has been no hard evidence to support claims of Suleymanov's death, although his whereabouts have been widely unknown since October 2022, when Kadyrov removed him from his post as deputy prime minister.
Newsweek reached out to the Russian Ministry of Foreign Affairs via email for comment Friday evening.