A reality TV star has revealed she was the brains behind a message that was used by former President Donald Trump to attack "liberal Jews" who he claimed were ruining America.
Trump has faced backlash for the Truth Social post where he shared the warning on Sunday during Rosh Hashanah, the Jewish New Year and the start of the faith's High Holy Days.
The message he shared, that listed five ways in which Trump had benefited Israel and Jewish people, was written by former Real Housewives of New Jersey star and long-time supporter Siggy Flicker. She had posted the flyer on her various social media platforms.
Flicker told Newsweek people should give "Trump credit for what he has done for the Jewish people in Israel.
"Donald John Trump has been the great for Jewish people and the state of Israel," she said.
Her original post praised Trump for moving the U.S. Embassy in Israel from Tel Aviv to Jerusalem, saying "no other president had the b**** to do it." It also boasted that Trump recognized Israel's sovereignty over the Golan Heights and "over settlements in Judea & Samaria," also known as the West Bank.
The reality star added that Trump had signed the "Never Again" Education bill into law, which provides funds for raising Holocaust awareness.
"Clearly one of the greatest antisemites of our time," the flyer concluded.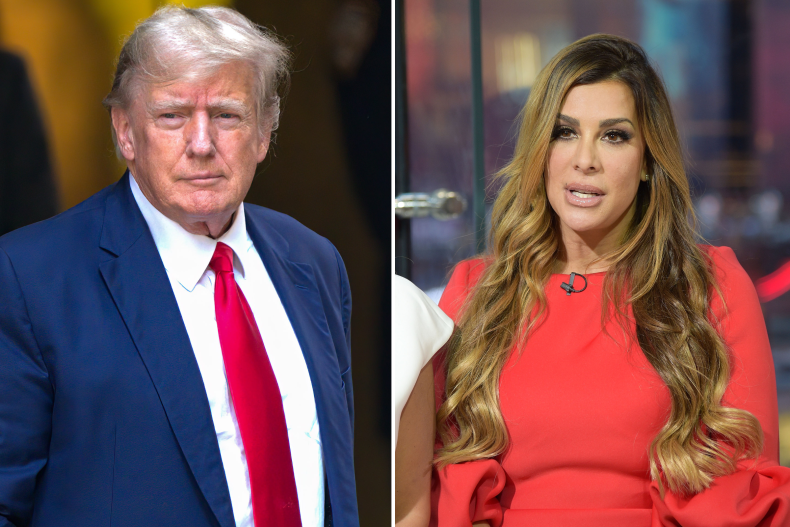 When Trump shared the post, he added: "Just a quick reminder for liberal Jews who voted to destroy America & Israel because you believed false narratives!"
"Let's hope you learned from your mistake & make better choices moving forward! Happy New Year."
Flicker has gone on to defend her original message. "Yes, I wrote the entire thing. Very proudly, loud and proud!" she posted on social media."
She also attacked trolls for criticizing her and the former president.
"Liberal entertainment media is triggered today because President Trump retruthed my post! Who is going to tell them that calling the most pro-Israel president and the greatest friend to the Jewish people an antisemite is not sticking. No reasonable person listen to these media houses anymore!" Flicker wrote in capital letters on Instagram.
"Try something else at the wall...It might stick! I doubt it! American liberal Jews are funding their own demise! How can anyone who has done so much for the Jewish people be an antisemite?" she continued.
Flicker explained that she became friends with Trump and his family after he became president in 2016 and that he was "the least antisemitic and least racist person."
"I list the things he did for Jewish people and I do that not only as a housewife[...]but because my father was saved by Catholic priests at age 7 when his family were running from the Nazis," she told Newsweek.
Flicker's father is Mordecai Paldiel, a Holocaust survivor and former director of the Department of the Righteous Among the Nations at the World Holocaust Remembrance Center in Jerusalem. The Righteous Among the Nations is a title afforded to non-Jewish people who helped save Jews from the Nazis.
Trump is currently leading the race for the Republican presidential nomination, while also facing 91 criminal charges across four indictments and is no stranger to heaping criticism on Jewish people in the U.S.
In 2019, he said American Jews who vote Democrat show "either a total lack of knowledge or great disloyalty."
Elsewhere he said the neo-Nazis who marched in Charlottesville, Virginia, in 2017 were "very fine people" and dined last year with Holocaust denier Nick Fuentes and Kanye West, after the rapper made a series of antisemitic comments.
Update 9/19/2023, 9:35 a.m. This article was updated to include more information.
Update 9/19/2023, 11:04 a.m. This article was updated to include comment from Flicker.