Missouri Republican state Sen. William "Bill" Eigel has threatened to burn "woke" and "pornographic" books if brought into the state's schools after a video showing lawmakers using flamethrowers went viral.
The video filmed at the St. Charles County Freedom Fest fundraiser northwest of St. Louis on Friday showed Missouri Republican Sens. Eigel and Nick Schroer using flamethrowers to burn several boxes.
But when the video was shared on X, formerly known as Twitter, this weekend a claim was made that the two Republicans were in fact burning books, invoking cases throughout history of censorship by oppressive regimes.
A Sunday post shared by the X account @Jonathan Riley said: "Missouri Republicans at a literal book burning. They think flamethrowers should be legal, but history books should be destroyed."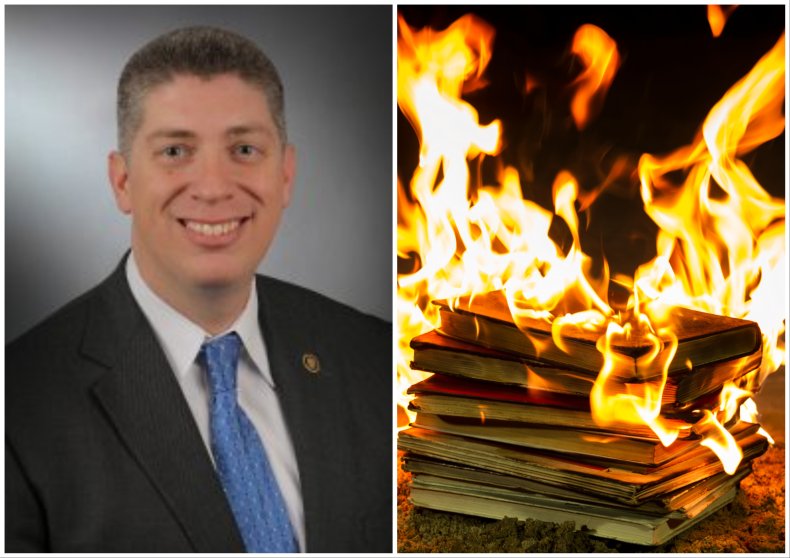 However, Eigel and Schroer later said the video did not show books being destroyed and that only boxes were burned.
A different video, taken at a different angle, showed the two Republicans were burning boxes and no books could be seen being set on fire.
In a statement shared in a Monday post on X, Eigel stated that he would burn "woke" books if they were brought into schools across the state, although he did not say what type of material would meet his definition.
The post read: "In a video that is being widely circulated of me at the St. Charles County Freedom Fest, I am taking a flamethrower to cardboard boxes representing what I am going to do to the leftist policies and RINO (Republican in name only) corruption of the (state capital) Jeff[erson] City swamp.
"But let's be clear, you bring those woke, pornographic books to Missouri schools to try and brainwash our kids, and I'll burn those too—on the front lawn of the governor's mansion."
Newsweek has contacted Eigel via the Missouri government website for comment.
Since being shared, the post has been viewed around 31,500 times and also received numerous negative comments.
The video, and the criticism that surrounded it, comes as Republican lawmakers across the country aim to enact further restrictions about which books can be in schools.
Earlier this year, Florida Gov. Ron DeSantis introduced a law that allowed parents to raise objections to books they deemed inappropriate.
The conservative group Moms for Liberty, which claims to challenge "short-sighted and destructive" policies in public schools, is opposed to critical race theory in schools and has pushed to get books with LGBTQ+ themes removed from school libraries.
Concern about book bans led Illinois Democratic Gov. J.B. Pritzker to sign a bill in July this year that "protects the freedom of libraries to acquire materials without external limitations."
A 2023 YouGov poll published in May found that 35 percent of Americans did not believe there is ever a time when a book or novel should be banned from being available in a school library, compared to 46 percent who said there is and 19 percent who stated they were not sure.
Some 45 percent of Democrats believe there was never a time to ban books compared to 38 percent who said there was and 16 percent were undecided.
In contrast, 63 percent of Republicans believe there were times when books should be banned from school libraries, compared to 23 percent who said there was not and 14 percent who were unsure.
The YouGov poll asked 2,000 Americans aged 18 or older as part of two separate surveys from February 15 to 17 and February 16 to 21.