The viral "Roman Empire" trend has made its way around TikTok, with people all around the world getting in on the act. Rob Gronkowski probably isn't someone you'd associate with ancient history, but he didn't have a problem stepping in front of the camera to get in on the act.
Beyond his incredible football talent on the NFL gridiron, Gronkowski was legitimately unguardable in his prime—the tight end also had a personality. Whether he was spiking the ball after a touchdown, sharing a colorful anecdote, or simply having a bit of fun, Gronk was his own man.
That trend, unsurprisingly, is continuing in retirement. While some former athletes may try to button things up and fit into the corporate world, the former Patriot isn't afraid to show his personality.
Let's check out how Gronkowski responds to the Roman Empire trend.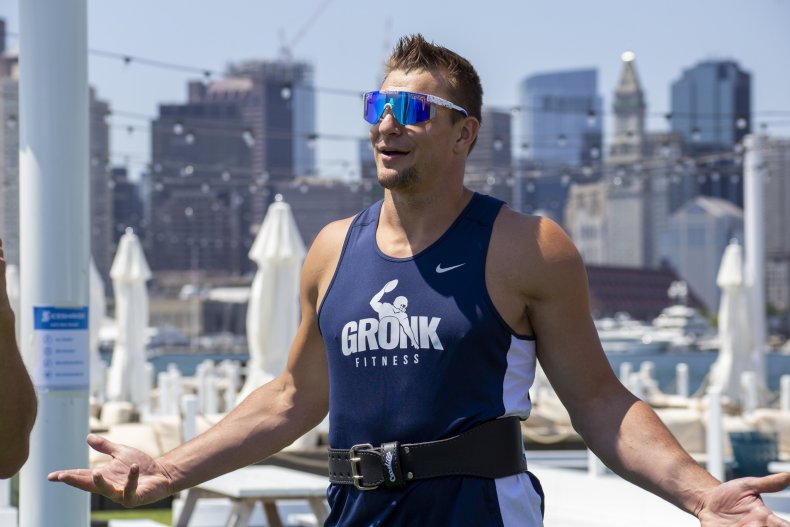 Gronk Thinks About the Roman Empire Every Few Years
For better or worse, the internet has connected different facets of our lives and brought them together in one place. If you want proof of that reality, consider Gronkowski fielding a question about ancient history.
Currently, there's a trend on TikTok that features women asking their husbands or boyfriends how often they think about the Roman Empire. In most situations, the answer is more frequent than the woman expected.
During Fox Sports' coverage of NFL Week 2 on Sunday, Gronk was brought into the trend.
In a video shared to X, the platform formerly known as Twitter, the former tight end shared his response. "Only when I watch the movie Gladiator," he quipped.
And in case you want a bit more detail about both Gronkowski's viewing habits and thoughts about Ancient Rome, he did provide some additional clarity.
"So, once every three years," he added with a nod.
Gronkowski Isn't a Dumb Jock, Though
Based on his response and his reputation as a former football player who enjoys partying, it's easy to default to stereotypes and assume that Gronk is something of a dumb jock. If we believe a former teammate, though, that isn't the case.
During a recent appearance on the Kelce brothers' New Heights podcast, Julian Edelman was asked about Gronkowski's habit of not watching film. While the former Patriots receiver didn't dispute that, he did paint a fuller picture.
"The crazy thing about Gronk is, Gronk's low-key like Rain Man," Edelman explained. "You throw numbers out there, Gronk knows numbers real well. When the coach would get on him early in his career, he never made that mistake again. His football knowledge is outrageous. If he sees it once and he does it, it's there for good. And that's just how he was. He was like a savant when it came to...you throw out contract numbers, I would walk by the hallway, be like, 'Yo, what's the square root of 1022?' He'd be like, '64 or whatever.' I'd be like, 'What?'"
After a brief aside, Edelman tied things in a bow by saying his old teammate was "a smart football player."
Later in the conversation, Jason Kelce spoke about his own experience with Gronkowski.
"There was perception, I feel like, of Gronk, where he's the big dumb jock," Kelce explained. "I feel like, he's got the New York accent, he ran people over, but you actually sit down and talk to him. 'This dude's actually...'"
Travis Kelce jumped in before his brother could finish his sentence, but the underlying point was clear: There's more to Gronkowski than meets the eye. Just don't expect him to be thinking about Ancient Rome.
Uncommon Knowledge
Newsweek is committed to challenging conventional wisdom and finding connections in the search for common ground.
Newsweek is committed to challenging conventional wisdom and finding connections in the search for common ground.
About the writer
Joe Kozlowski is a Newsweek reporter based in New York City. His focus is reporting on trending sports stories. Joe joined Newsweek in 2023. He is a graduate of NYU's Gallatin School of Individualized Study. You can get in touch with Joe by emailing [email protected].
Languages: English.