Russian long-range bombers will be armed with "novel" new cruise missiles, Moscow has said, although the real-life capabilities of the extended-range missiles appear up for some debate.
On Saturday, Russia's long-range aviation commander, Lieutenant General Sergey Kobylash, said Russia's new Kh-BD missile has a range of over 6,500 kilometers, or more than 4,000 miles, in remarks reported by Russian state media outlet, Tass.
A Tu-160 bomber aircraft will be able to carry two sets of six Kh-BD missiles, added Moscow's Defence Minister, Sergei Shoigu, during a visit with North Korea's leader, Kim Jong Un, to an air base in Russia's Far East on Saturday.
Russia has been looking at producing longer range air-launched cruise missiles for a while, according to Sidharth Kaushal, of the London-based Royal United Services Institute defense think tank.
Analysis has previously suggested Moscow is hoping to overhaul its strategic bomber fleet, and the Tu-160 has re-entered production in Russia with an upgraded new variant, the Tu-160M. The first newly-built Tu-160M had its maiden flight in early 2022.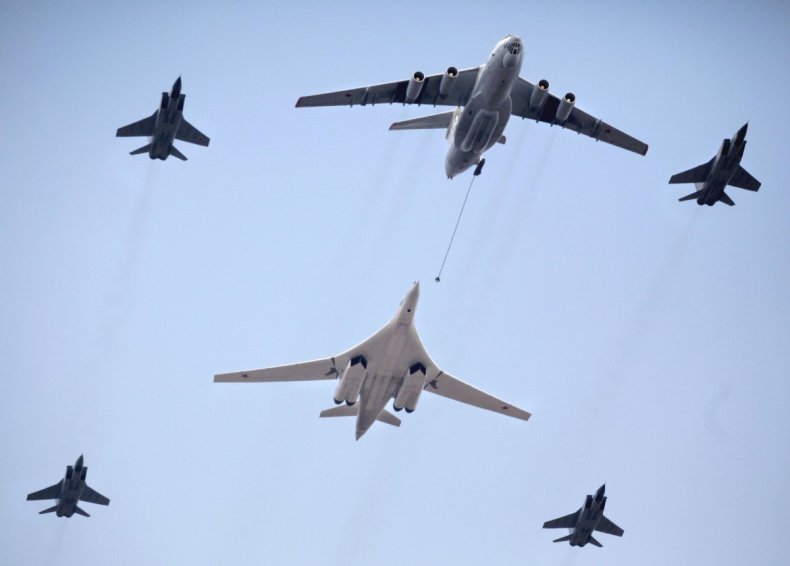 Experts cast doubt on the true capabilities of the "novel" cruise missile, although it would nonetheless be "a useful strategic tool for the Russians in both conventional and nuclear terms," Kaushal told Newsweek. There are several unknown factors surrounding the Kh-BD, including the true range, how many a Tu-160 can carry, and how well it could elude enemy air defenses.
"The range of this missile seems quite extreme," according to Frederik Mertens, a strategic analyst with the Hague Center for Security Studies.
"It would demand a true leap in the quality of the small turbofan engine powering the missile, especially when compared to earlier Russian missiles," he told Newsweek.
The missile could be an extended-range version of Russia's Kh-101 missile, added Kaushal. The Kh-101 is a conventional and nuclear capable air-launched cruise missile that has been used extensively by Russian forces in Ukraine. On Monday morning, Ukraine's military said it had shot down 17 missiles overnight, which were a mixture of Kh-101, Kh-55 and Kh-555 cruise missiles.
Given the range of air-launched cruise missiles Moscow has, it is believable that the Kremlin's forces could field a long-range variant, Kaushal said. Yet claims from Russia's defense minister that a Tu-160 can carry 12 missiles "are hard to believe," he added, arguing the longer-range missiles would need to be larger than the 12 Kh-101s the Tu-160 can currently carry.
It is also unlikely Russia will be able to build many of these missiles, Mertens said, which may not carry a heavy conventional warhead.
"With such a claimed range, every bit of space should be used for fuel, certainly considering the problems the Russians have with miniaturized parts. Nuclear warheads on the other hand don't need much space," he said.
It may also be a stealthier missile than the cruise missiles Russia is currently using—and that Ukraine is frequently shooting down "with almost astounding ease," Mertens argued. Yet any claim from the Kremlin that this new Kh-BD cannot be intercepted should be treated with skepticism, Mertens added.
Russia has previously touted its hypersonic air-launched Kinzhal, or "Dagger," missile as unstoppable, but reports from Ukraine suggest Kyiv's air defenses have repeatedly intercepted the missile, including with U.S.-made Patriot systems. The Kinzhal is thought to have a range around 2,000 kilometers, or approximately 1,250 miles.
Newsweek has reached out to the Russian Defense Ministry for comment via email.