Unmanned aerial vehicles (UAVs) striking Russian territory have exploded long after they hit the ground, potentially adding a new dimension to drone warfare, a Russian media outlet has reported.
A drone had been discovered on Sunday on a farm in Russia's Novousmansky district of the Voronezh oblast south of Moscow, the Telegram channel Baza reported.
The outlet posted images of the device lying in a field near a bus stop on the highway between Voronezh and Novovoronezh. Russian state media outlet Vesti reported that Russia's Ministry of Defense was confident that the Ukrainian military was trying to carry out a terrorist attack. Newsweek has been unable as yet to verify this claim.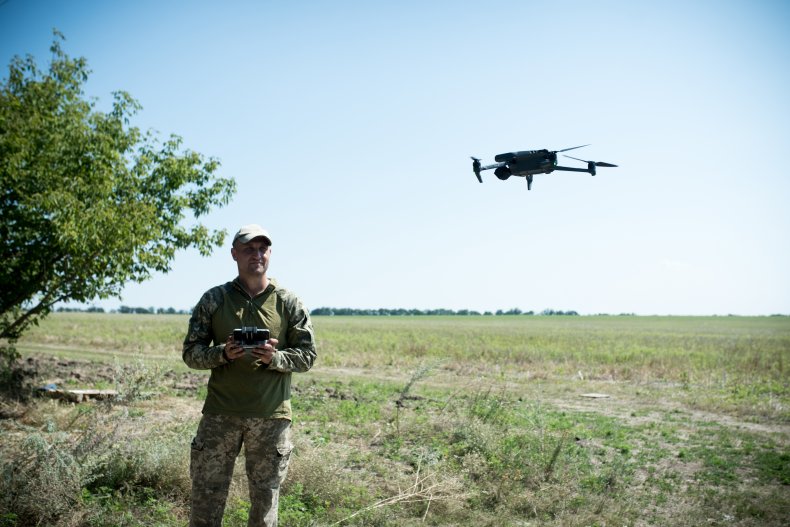 There has been a spike in recent weeks of attempted drone strikes in parts of Russia for which Moscow has blamed Kyiv, although Ukraine has not admitted responsibility for most of the incidents.
When examined by members of Russia's National Guard on Sunday, the device in the Voronezh oblast blew up. "The Ukrainian Armed Forces have started to launch self-destructing drones," which explode "a few hours after they land," reported Baza.
The online news site said that, according to preliminary information, no one was injured and that at least two similar cases of drones exploding in this way were already known.
Another similar drone was discovered in the Kursk regional town of Lgov on September 17 at 11 a.m. near an inactive oil depot. Baza said that "40 minutes after its discovery, the drone self-destructed."
"According to preliminary data, the drones are equipped with a self-destruct timer," said Baza, adding that "several hours pass from the time it lands to the time it explodes." Newsweek has contacted the Ukrainian Defense Ministry for comment.
Steve Wright, a U.K-based researcher and developer in UAVs for defense and security, told Newsweek that the drone shown on the Baza Telegram post is smaller and of a different design to the "Beaver" drones that have been hitting Moscow.
"However, like the Beaver, it has a gasoline-powered piston engine, which would give it a range of up to hundreds of kilometers," he said. "Its smaller size also means that it could be launched from anywhere, such as the back of a truck or field. So, this is an interesting example of how Ukraine is clearly expanding its drone capability."
He said that the delayed explosion could be explained by a booby trap built into it, perhaps triggered by a timer or by the drone being moved.
"Until I see another similar incident, I would assume that the unlucky Russian Guards that came to inspect it accidentally triggered a contact or switch in there," he added.
The head of Ukraine's Main Intelligence Directorate, Lieutenant General Kyrylo Budanov, told The Economist that Ukraine wanted to use drone strikes to deplete Russian air defenses and disable and damage military facilities. Budanov said the UAVs would "definitely make the operations to liberate our territories easier," as well as push Russian citizens out of their comfort zone.
State news agency RIA Novosti reported on Tuesday that Russian air defenses had shot down three targets over the Belgorod oblast, which borders Ukraine and has seen attacks on military facilities.
Meanwhile, the Ukrainian air force reported on Tuesday that its air defense systems had shot down 27 Russian attack drones overnight in southern, central, and western regions of Ukraine. It said that Russian forces sent 30 Shahed kamikaze drones toward Ukraine, as well as one Iskander-M ballistic missile from Russian-occupied Crimea towards Kryvyi Rih in the Dnipropetrovsk region.
Lviv Mayor Andriy Sadovyi reported on Telegram that a drone strike caused a fire in the western city, which injured one person.
Update 09/19/23, 4:55 a.m. ET: This article was updated with comment from drone expert Steve Wright.