The Centers for Disease Control and Prevention (CDC) issued an alert on Monday that at least five cases of malaria acquired within the United States have been reported in the past two months.
Four of the cases were documented in Florida and one was documented in Texas, according to the agency. This is the first time that locally acquired mosquito-borne malaria has occurred in the U.S. since 2003.
"In Florida, four cases within close geographic proximity have been identified, and active surveillance for additional cases is ongoing. Mosquito surveillance and control measures have been implemented in the affected area," read a release from the CDC. "In Texas, one case has been identified, and surveillance for additional cases, as well as mosquito surveillance and control, are ongoing."
The Texas Department of State Health Services said in a statement Friday the Texas case took place in Cameron County in the southern tip of the state that includes South Padre Island. On Monday, the Florida Department of Health said in its statewide alert that all four Florida cases occurred in Sarasota County, and that all patients "have been treated and have recovered."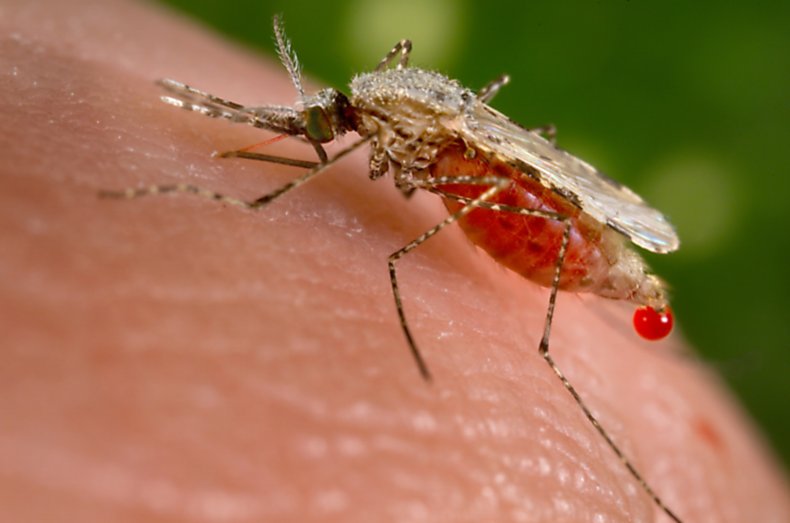 How Does Malaria Spread?
Malaria is typically transmitted by the bite of an infected female mosquito and is caused by one of five species of parasites found in infected insects. On rare occasions, the disease can also spread through blood transfusions, organ transplants, or unsafe needle-sharing, the CDC writes. Pregnant mothers who are bitten by an infected mosquito can also potentially pass the disease to their fetuses on rare occasions.
Malaria cases in the U.S. are typically travel-related and imported from patients who have traveled to areas with higher malaria transmission rates, such as countries in sub-Saharan Africa and south Asia. According to the CDC, prior to COVID-19, roughly 2,000 cases of mostly travel-related malaria were reported each year in the U.S., and about 300 people experienced "severe disease."
U.S. officials expect that international travel during the summer months will start to increase to pre-COVID-19 levels in 2023 as well, posing a potentially higher risk for malaria to spread.
What Do Malaria Symptoms Look Like?
Symptoms of malaria vary depending on the patient, according to the CDC, but can include fever, chills, headache, myalgias, and fatigue, as well as nausea, vomiting, and diarrhea. Patients who contract the disease usually show symptoms between 10 days to four weeks after being bitten, but others can feel ill as early as a week into being infected.
"If not treated promptly, malaria may progress to severe disease, a life-threatening stage, in which mental status changes, seizures, renal failure, acute respiratory distress syndrome, and coma may occur," read the CDC's release. "Malaria in pregnant people is associated with high risks of both maternal and perinatal morbidity and mortality."
According to Doctors Without Borders, the malaria parasite invades an infected person's red blood cells, causing the cells to lose their elasticity and blocking them from flowing through the smallest blood vessels, or capillaries. This can lead to organ failure in infected patients and cause complications like anemia and jaundice.
According to the agency, approximately five to 10 people died yearly from malaria complications prior to COVID-19 travel restrictions.
How Is Malaria Treated?
It's important that malaria is detected early in its manifestation, and that the type of parasite that cause the infection is identified.
Health care facilities are recommended to keep diagnostic test on hand in order to diagnosis patients and to keep stock of IV artesunate—the first-line drug for treatment of severe malaria—on hand. Other treatment options depending on the strand of the disease include artemether-lumefantrine and atovaquone-proguanil.
Individuals can also take steps to prevent mosquito bites and control the population of mosquitos at home. For example, standing water items such as rain barrels or birdbaths should be emptied and cleaned once a week to prevent mosquitos from laying eggs in the containers.
"The risk of contracting malaria in the U.S. remains extremely low," said Monica Parise, director of the Division of Parasitic Diseases at the CDC, who spoke with Newsweek via email. "There are things you can do to protect yourself. Use an EPA-approved mosquito repellant to prevent mosquito bites, wear loose-fitting long-sleeved shirts and pants, keep windows and doors closed, repair broken or missing screens, and empty standing water so that mosquitoes don't have an easy place to lay eggs."
"Unlike the mosquitoes that transmit viruses like dengue or Zika, which bite during the day, the mosquitoes that transmit malaria bite during the evening and at nighttime," Parise continued. "People are encouraged to take precautions to avoid being bitten by mosquitoes at night, especially if they plan to be outdoors."
Update 06/27/2023, 4:11 p.m. ET: This article has been updated with additional comment from the CDC.