A video shared on Monday by the Ukrainian military portrays the village of Klishchiivka in complete ruins after it was recaptured by Kyiv's forces earlier this week.
Ukrainian President Volodymyr Zelensky announced on Sunday that his troops had regained control of the key village southwest of Bakhmut—a city in eastern Ukraine that has endured some of the bloodiest battles of the war. Photos circulated Sunday afternoon of Ukrainian soldiers embracing their country's flag among destroyed buildings in the village.
In a video shared to X, formerly Twitter, on Tuesday by the Ukrainian Defense Ministry, aerial footage sweeping overhead of Klishchiivka shows additional details of the village's destruction, including ruined buildings and barren trees. In occasional clips, pillars of smoke can be seen rising from the ashes.
Ukraine credited the 5th Assault Brigade of its ground forces for the video. Newsweek could not independently verify the footage.
The recapturing of Klishchiivka is a major milestone in Ukraine's ongoing counteroffensive, which for months has been focused on reclaiming Russian-occupied territory in the southeast. Zelensky has promised that the war cannot end until all of Ukraine is returned to Kyiv, including the Crimean Peninsula, which was annexed by Russia in 2014.
Ukrainian military spokesperson Illia Yevlash wrote on Telegram Sunday that the battle to retake Klishchiivka inflicted "powerful damage" on Moscow's forces in the area.
"So now we have gained a base that will allow us to continue to develop offensive actions and liberate our land from the invaders," Yevlash added.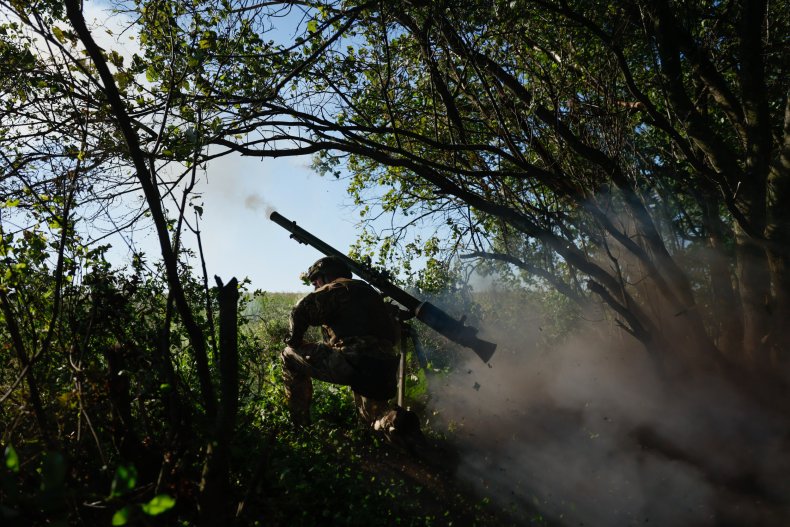 Ukraine's troops have continued to make slow but tactical gains as they close in on the city of Bakhmut, which was taken by Russia in May. On Friday, Kyiv announced that its 3rd Separate Assault Brigade had successfully reclaimed the village of Andriivka, roughly six miles south of the city.
The victories arrive just before Zelensky is scheduled to visit Washington, D.C. Additional funding for Ukraine has been a key debate among Congress as lawmakers fight over a short-term continuing resolution to avoid government shutdown. President Joe Biden has repeatedly committed to assisting Ukraine, and asked last month for an additional $24 million in military aid for Kyiv.
While lawmakers on both sides of the aisle have expressed support for supplying Ukraine, some more conservative lawmakers have argued for cuts to spending packages. Since Russia invaded Ukraine in February 2022, Congress has passed roughly $61.4 billion in military assistance split over four separate funding packages.
Newsweek reached out to Russia's Defense Ministry for comment via email.