The Kremlin has suggested Vladimir Putin's busy schedule may prevent the Russian president from attending the funeral of Yevgeny Prigozhin, who is presumed dead after the Wagner Group chief's private jet crashed on Wednesday.
Putin's press secretary Dmitry Peskov said on Friday that it's not yet possible to say whether Putin will be able to attend Prigozhin's funeral.
"We do not know how long the necessary examinations and the necessary actions related to the investigation [into the plane crash] will be," Peskov said.
"Therefore, at the moment, when there are no dates for the funeral and so on, it is impossible to talk about this. The only thing that I can say is that the president has a fairly busy work schedule now," he said.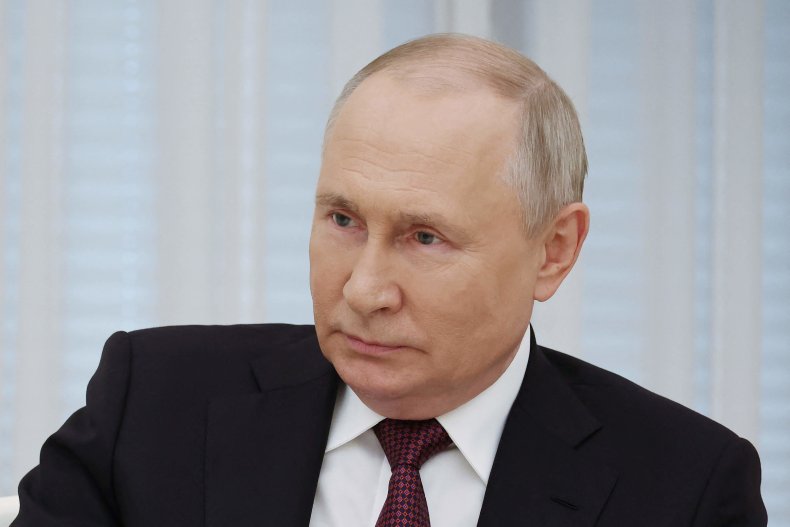 The news comes hours after Putin broke his silence over Prigozhin's reported death. The Russian president said on Thursday that the Wagner Group leader was a "talented person" who "made serious mistakes in life."
However, he didn't explicitly confirm Prigozhin's death and there has been no official confirmation that the Wagner Group chief's body has been found or identified.
A private jet belonging to Prigozhin, which had been traveling from Moscow to St. Petersburg, crashed near the village of Kuzhenkino in Russia's Tver region on Wednesday. All 10 people on board were killed, Russian authorities said.
The crash came exactly two months after Prigohzin led a failed uprising against the Kremlin's top brass, in what he described as a "March of Justice." It marked the most serious challenge to Putin's rule since he came to power in 1999.
The cause of the crash wasn't immediately clear, although some reports suggest the jet was downed by Russian air defenses. Ukraine has denied responsibility, and the Kremlin said speculation that Prigozhin had been killed on Putin's orders was an "absolute lie."
"There is now a great deal of speculation surrounding this plane crash and the tragic deaths of the plane's passengers, including Yevgeny Prigozhin. Of course, in the West, all this speculation is presented from a well-known angle," Peskov told reporters on Friday.
"All of this is an absolute lie, and here, when covering this issue, it is necessary to base yourself on facts," he said. "There are not many facts yet. They need to be established during the course of investigations."
Update 08/25/23, 8:08 a.m. ET: This article has been updated with further details.
Do you have a tip on a world news story that Newsweek should be covering? Do you have a question about the Russia-Ukraine war? Let us know via [email protected].