Iranian-made drones deployed by Russia are continuing to cause difficulties for Ukrainian forces, according to Ukrainian Air Force spokesman Yurii Ihnat.
Russian forces have utilized Iran's Shahed-131 and 136 drones extensively throughout its prolonged invasion of Ukraine, despite the Iranian government's initial denial that it had provided them. Iran eventually admitted in November to supplying a "small number" of drones to Moscow "months before the Ukraine war." With a launch range of around 550 miles for the 131s and 1,200 miles for the 136s, each Shahed drone is outfitted with a warhead that explodes upon reaching its intended target.
In a Sunday interview with Ukrainska Pravda, Ihnat detailed the frustrations that the country's defenders have faced in dealing with the Iranian drones, calling their ability to evade various forms of attack "a real headache."
"Iranian-made drones are a real headache," Ihnat said. "It's still very difficult to down them. When lots of them have been launched, they all fly along different routes, staying close to the ground, so that it's difficult to shoot them from a plane. The drone's speed is 150 km/h, while a fighter jet flies at a minimum of 400 km/h."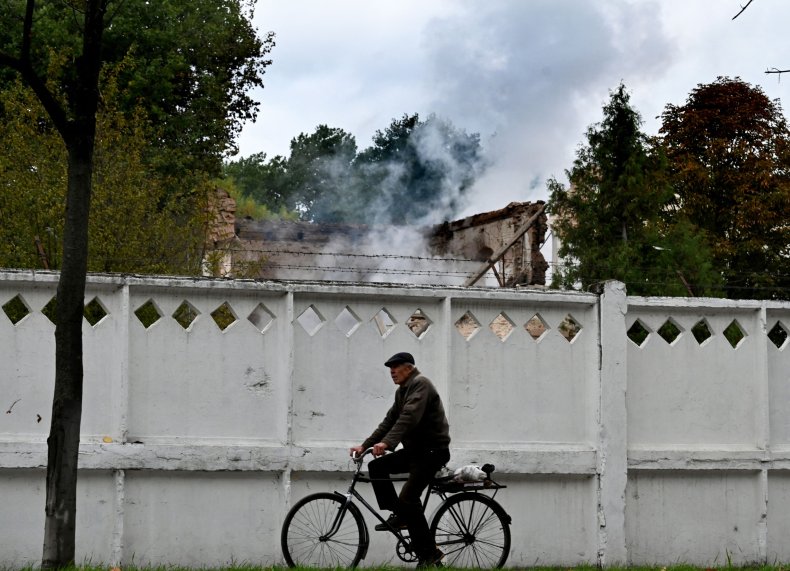 Ihnat added: "And we can't get those drones during the night using ground forces' air defense equipment or mobile firing groups, either."
The spokesman further claimed that Russia deliberately deploys the drones at night due to the difficulty they present, particularly in the hope that the tactic will result in Ukrainian forces wasting their anti-aircraft ordinances. This would also allow Russian forces to more accurately deduce where Ukraine's defense systems are located.
Newsweek reached out to Russian officials via email for comment.
Pravda's report noted that six Iranian drones were purportedly shot down on Saturday, though it is unknown how many were launched overall. According to estimates from Ukraine, it destroyed 17 Russian tanks and 24 Armored Protected Vehicles (APV) over the course of the same day as it began carrying out a long-planned counteroffensive, though Newsweek could not independently verify those figures.
"Appropriate counteroffensive and defensive actions are taking place in Ukraine," Ukrainian President Volodymyr Zelensky told reporters on Saturday. "I will not say in detail at what stage they are. I believe we will certainly feel all this. You must trust our military. I trust them. I am in daily contact with our commanders in various areas. Syrsky, Tarnavsky, with Moskalyov, Naiev, Zaluzhny. All are now in a positive mood."