If there's one thing Wednesday's GOP presidential debate made clear, you can still end up with a dumpster fire even without former President Donald J. Trump there to ignite it. The candidates on stage at the "Talkie in Milwaukee" said many praiseworthy, exciting things, but none of it was able to overshadow the entitled, millennial arrogance exhibited by tech entrepreneur Vivek Ramaswamy, whose disruptions allowed him to dominate he debate.
That's a shame. No candidate had a breakout moment, the kind of thing the pundit class looks for as a signal that someone might be breaking out of the pack. Nevertheless, Ramaswamy consistently presented the best formulations of the kinds of ideas on domestic policy needed to wrest the nomination from Trump and to beat Joe Biden.
On foreign policy, however, he came up short. Former Vice President Mike Pence and ex-U.S. Ambassador to the U.N. Nicki Haley both schooled the first-time candidate regarding what's at stake in Ukraine and why America needs to continue to support the effort to repeal its Russian invaders.
If one of the participants has to be designated the winner, it's probably Florida Gov. Ron DeSantis. This year has been as bad for him as 2022 was good, and he came into the debate almost but not entirely on fumes. He still runs second to Trump in the polls, albeit a distant second, and he has more money in the bank than any of the other candidates challenging the frontrunner. He's also reshuffled his campaign team twice already and somehow seems to have forgotten why he got into the race.
Having also been on the receiving end of Ramaswamy's overdone barbs should signal to DeSantis (and everyone else) that a change in campaign tactics is needed. It's hard to push back against a verbal buzzsaw, so don't try. Talk about your record. For DeSantis, that should be a desirable option. He kept Florida open while most of the country remained in pandemic-inspired lockdowns, brought down the crime rate, passed significant education reforms that empower parents to play a greater role in their children's educational success, and kept the state's finances on an even keel.
Talking about things like that persuades voters to give you a second look. Being a culture warrior doesn't, which is something Pence—a longtime conservative leader who accomplished a great deal as a member of the U.S. House of Representatives and as governor of Indiana—is still apparently learning.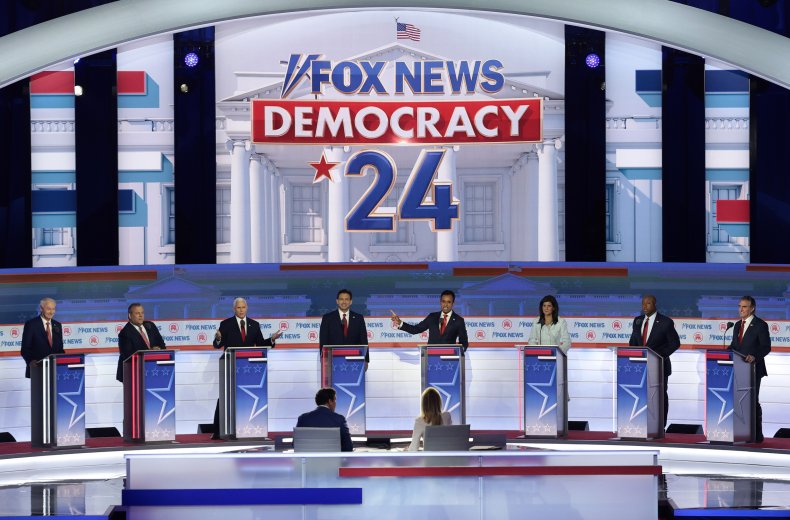 South Carolina Sen. Tim Scott, former New Jersey Gov. Chris Christie, and North Dakota Gov. Doug Burgum all turned in serviceable performances, sometimes coming close to punching above their weight. Christie's serious, meaningful answer about the president's responsibility to be candid at all times with the American people in response to a nonsensical question from debate moderator Martha McCallum about UFOs was inspiring. Still, none of them took command of the stage enough to shine.
The same cannot be said of former Arkansas Gov. Asa Hutchinson, whose lackluster speaking style hid, to his benefit, the fact that he's bereft of any real ideas on how to get the nation moving. His time, if it ever existed, has passed.
The big winner in all this was President Joe Biden. The attacks on his record were uniformly weak, lacking in specifics and landing with the dull splat of a handful of wet noodles. His policies have weakened the nation's economy, driven inflation to heights not seen since the 1970s, and pushed the dream of home ownership out of the reach of first-time homebuyers as the Federal Reserve took steps to bring that inflation down.
Had he been there, Trump would have launched an attack on the current president's record with savage enthusiasm. The wannabes competing with him for the nomination must step up their game. Perhaps none of them are yet convinced they have a real chance to win as long as the former president stays in the race.
As for Trump, we don't know yet how many people watched the debate and how many logged into his pre-recorded interview with Tucker Carlson shown over the app formerly known as Twitter. If they watched Trump, they got what they probably expected, along with a flurry of emails and social media posts responding to what was being said about him in the debate, so nothing that was said is likely to change their vote.
However, if they watched the debate, they might have seen an inkling of something or someone they could support instead of the former President who, as I have written before, is campaigning as though he were an incumbent.
In a sense, he is—but tastes change. Just ask George Herbert Walker Bush, who had a 90 percent approval rating a year before losing the White House to Bill Clinton. Stranger things have happened. Admittedly, not many, but Trump ignores the field of those running behind him at his peril. One might just say something that catches on with the voters and causes the race to tighten quickly.
A Newsweek contributing editor, Peter Roff is a veteran Washington journalist and former U.S. News & World Report columnist. A former senior political writer for United Press International, he appears regularly on U.S. and international media platforms. He can be reached at [email protected] and followed on social media @TheRoffDraft.
The views expressed in this article are the writer's own.